The country, economy and the currency.
New Zealand could be considered to be the smaller and often overlooked cousin of Australia. But in truth, the country is fiercely independent of and separate from its larger neighbour. The country thrives on international trade which makes up a significant proportion of its US$185 billion GDP. As we will discover, New Zealand faces its own set of challenges, one of these being a slowing rate of GDP growth, as evident in the chart below.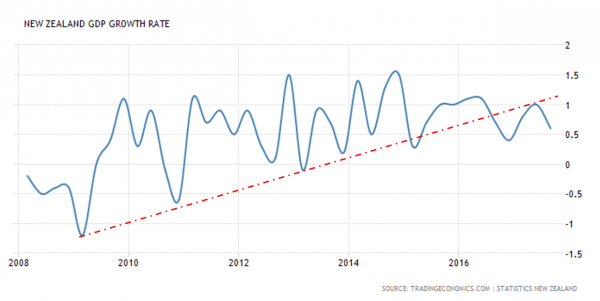 Firstly, let's get an overview of New Zealand's economy as a whole. To that end, we can refer to the Atlas of Economic Complexity, which breaks down the countries economic activity into imports and exports by sector/product. The heat map below shows the breakdown of New Zealand's exports during 2016. As we can see, there is a heavy bias towards agricultural products and foodstuffs, which collectively account for around half of total exports. Timber and Wine also make a significant contribution to the total figures.
From an import standpoint, the picture looks as follows; Motor Vehicles, Aircraft Parts and Pharmaceuticals, for both humans and animals, are significant import categories.
In terms of its trading partners, New Zealand's major relationships are as follows; China, Australia and the USA are the principle counterparties for both the country's import and export business.
Digging deeper into New Zealand's Economy
Let's dig a bit deeper into that economy and try to discover what's going on under the surface as it were. First of all, let's get some context about exactly where New Zealand's economy sits on a global stage. The chart below sheds light on just that, through a comparison of GDP per capita  between New Zealand and selected G20 countries. On this basis, New Zealand is some way behind the US and Australia. But its economy is comparable to the Eurozone average figure of just over US$39,000, and is 2.9 times larger than the global average for this data point, according to data from Trading Economics. As such, we can consider New Zealand to be a pretty prosperous country and very much a developed, rather than a developing economy.
Employment and Housing
On the ground in New Zealand unemployment has been falling (to 4.6% in Q32017), and job vacancies rising quite dramatically in recent times. In fact, November's data was a record for the country. Unlike many of its peers, New Zealand's labour force enjoyed rising wages. As a result, those higher wages are the principal component of steadily rising labour costs within the economy. Unfortunately, productivity looks to have been negatively affected because of this, in fact productivity declined by -2.2% between Q4 2015 and Q4 2017. Inflation in New Zealand is running at +1.9% per annum currently and has been rising. Consumers in the country, in common with many of their peers in other developed economies, have been maintaining living standards by increasing their levels of household debt. Though, the growth in such debt in New Zealand does seem to be moderating of late. However, there is a disturbing flip side here, in that New Zealand has falling rates of homeownership and, as of Summer 2017, it had one of the highest rates of homelessness in the developed world. With some 1% of the population falling into the classification of "housing deprived," according to data compiled by Yale University.
The high level of homelessness has been exacerbated by a chronic housing shortage and not helped by a divergence between falling construction output, and rising numbers of building permits. The government is trying hard to redress this imbalance. This Government is itself a relative newcomer; a Labour-led coalition formed through negotiation after inconclusive autumn elections.
The Central Bank Interest Rates and Inflation
The new administration has advanced several new policies, one of which is an adjustment to the mandate of the Reserve Bank of New Zealand (RBNZ), the countries Central Bank. Going forward the Banks mandate will include a full employment objective, intending to improve the economy and discourage migration.Though with labour participation rates already at a record 71.1%,  it's not clear just how much more the RBNZ can usefully achieve. The central bank has a "near 2%" inflation target, and it has been relatively successful in meeting that goal. The RBNZ does not appear to be sitting on its laurels, however. Instead, it has factored in the possibility of both a weaker currency and higher oil prices into its 2018 model.
A combination of those factors could push inflation above the 2% threshold and present risks to the upside after that. Interest rates have been on hold in New Zealand, at +1.75% for more than 12 months. But they could well rise once more if inflation does start to move above 2% and higher. Increases in minimum wages, as much as +6% by 2021 latest, and other additional fiscal stimulus measures proposed by the new administration could help to bump up inflation and force the bank's hand. Despite that expectation, the New Zealand Dollar, or Kiwi as it's  affectionately known, has been falling in value of late. The chart below plots the NZD vs the USD in blue and compares that rate to the Trade Weighted version of the Kiwi in red.
Currency sensitivities
The NZD has recovered some composure in 2018, moving away from its turn of the year lows, and it could rise further. However, falling agricultural commodity prices may temper the benefit that the economy derives from any newfound strength. HSBC Australia, who follow the New Zealand currency very closely, believe interest rates in New Zealand may well rise in the second half of 2018. Moves in the currency are largely driven by interest rate differentials and the price of agricultural commodities. This can provide something of a double whammy for the Kiwi in that a weaker US Dollar can be positive for commodity prices, and obviously can help to strengthen the Kiwi, which itself can benefit from higher commodity prices.
Notwithstanding the secular trends in those same commodity prices that we mentioned earlier. The Kiwi is also sensitive to changes in sentiment towards its major export partners, particularly China and Australia; economies which are themselves closely entwined. Over the course of 2018, it might be prudent to watch the price of Agricultural commodities, meat and dairy products alongside consumer sentiment and spending in the domestic New Zealand economy. As well as wage growth and housing index data. In 2016 some 4.7% of the country's imports were made up of oil and oil-related products. Further rises in the price of these items could also help import inflation into the island chain.
The new administration has so far managed to keep the markets on the side as such it remains in a honeymoon period. But if inflation were to drift lower alongside the price of agricultural commodities then there will be some tougher choices to be made, and the Kiwi may come under pressure once more. New Zealand might be out of the way geographically speaking but its currency is certainly worth keeping an eye on.