If there's one overriding instrument that can help smart traders obtain a clear edge, it's the Sentiment Trader. Top tier brokers have been opening up their books for years now, plainly showing how their clients are positioned. This data was always readily available to brokers, but only in the past 8-10 years has it actually become "public information".
Would you believe there is an edge to be found in analysing retail trading habits? After all, it's a known fact that most retail traders are unable to make significant progress. So why would brokers care? The answer lies in the consistency of losses. If a trader is wrong 50% of the time, then there really isn't an edge to be found in analysing his trading patterns.
But what if, in aggregate, traders were consistently on the wrong side of a trend? Now, that's something worth using. And it is publicly available information that can help you become a more consistent trader.
Enter Sentiment Trader.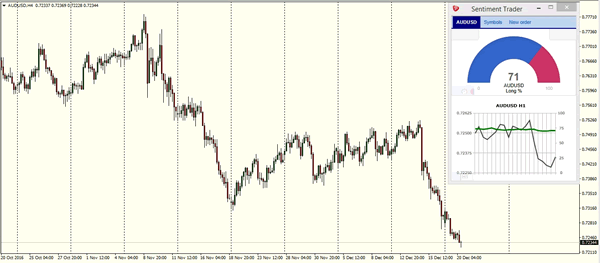 AUD/USD 4H chart with Sentiment Trader – Pepperstone MT4.
Crowd Behaviour
The main reason many "experts" and "market forecasters" and the like are constantly wrong is that they pay too much attention to "cold hard facts" and forget that decisions are made based on emotion—on "sentiment". People consistently fail to read, identify, and filter the overriding sentiment of the majority of people, be it in the markets or in any other occasion.
Pure fundamental traders and pure technical punters lose so regularly and consistently primarily because they really hate being wrong. Instead of having the patience to milk a trend, the majority of aspiring traders fade large moves and are consistently looking to pick tops and bottoms.
The most successful players aren't fundamental or technical practitioners; instead they are traders who can successfully and consistently read people, mood, and sentiment, and they continually fade them. They don't marry opinions or positions.
A proprietary elaboration based on historical Retail Positioning vs. EUR/USD
The chart above clearly illustrates the concept. On the left hand side, we have the value of EurUsd (blue). On the right hand side, we have the Net Client position (%Long – % Short, in pink). As you can see, clients love to fade rallies and catch falling knives. In the recent aggressive drop, clients have aggressively started to buy EurUsd, even though the clear path is lower.
How to Use Sentiment Trader to Gain an Edge
Look for extended readings (>70% or <30%). This will mean that the crowd is either extended on the long side (so we should be looking to sell) or extended on the short side (so we should be looking to buy).
Match the readings with the best looking trends.
Wait until your favourite setup appears.
Execute and manage the trade like a pro.
Now, for an example. USD/JPY has been a recent favourite. Ever since Donald Trump became the President Elect, the USD has been on a tear, along with US equities. The combined power of strengthening USD and heightened risk appetite has pushed USD/JPY a long way.
Which way do you think the crowd has been facing?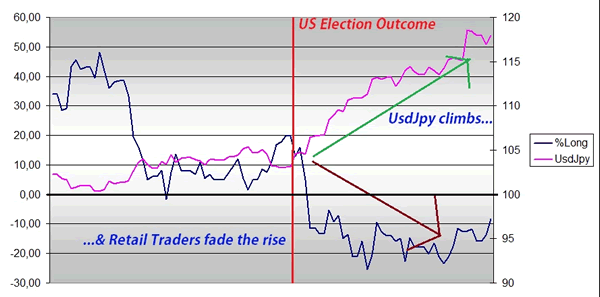 So, we now know the trend is UP (because retail folk are shorting into clear strength based on a solid fundamental reason). All we need to do is bring into play our preferred trigger setup.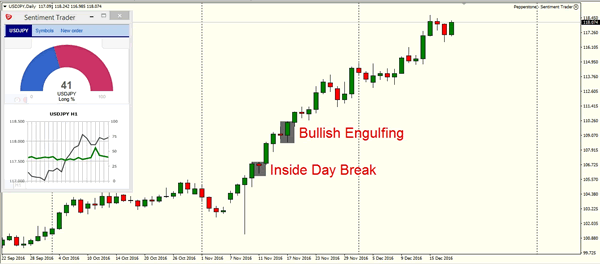 USD/JPY daily chart with Sentiment Trader – Pepperstone MT4.
Bottom line: reading and exploiting client sentiment will help you face the right way with your trades, and that is already an edge in itself. You will never again have trouble identifying clear trends.
Over to You
In order to become proficient at reading client sentiment and inserting yourself into clear trends, it's important to catch the shifts in sentiment early on. This takes consistency and discipline, but once again, with Sentiment Trader it's very easy. Just cast a lazy eye over the Sentiment Trader dashboard each day, and when readings start being extreme, all you need to do is pull up the chart and wait for your favourite triggers.