FX: The New Zealand and Australian dollars were the day's strongest major currencies; the Swiss franc and Canadian dollar were the weakest. The British pound also edged higher after the announcement of Boris Johnson's new Brexit plan.
US data: The ISM Non-Manufacturing PMI survey confirmed the weakness in its Manufacturing cousin, printing at 52.6, well below the 55.0 reading expected and at its lowest level in 3 years. The employment component of the survey, a key leading indicator for Non-Farm Payrolls, fell to essentially flat at 50.4.
See what we're expecting ahead from tomorrow's highly-anticipated Non-Farm Payrolls report!
Commodities: Gold ticked higher on the day while oil dipped less than 1%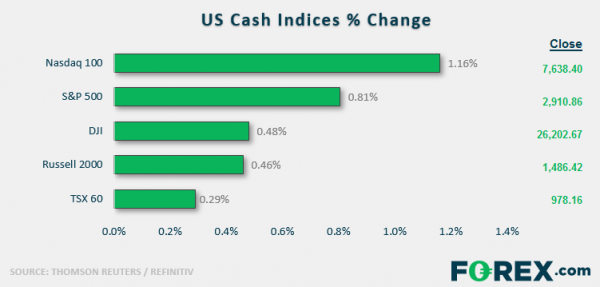 US indices closed higher on the day despite a mid-morning swoon on the disappointing ISM Non-Manufacturing PMI data.
Technology (XLK) was the strongest sector on the day, while Utilities (XLU) were the weakest and the only sector to fall.