Currency Pair of the Week: EUR/CAD Three Central Banks meet this week, which include the BOC, ECB, and the BOJ. Although none are expected to change policy at this week's meetings, comments must be watched for surprises as to what comes next.
As mentioned, the ECB is expected to remain on hold this week. Speculation is that the Central Bank will wait for staff projections at the December meeting. However, with the rise in coronavirus cases across Europe, as well as the current leveling off (or even weakening) of economic data, the ECB may be more dovish then expected. There is increasing concern over the rise of coronavirus cases in Europe. France, Italy and Spain are heading back to lockdowns. This is raising fears over the European economy for Q4. (We see Q3 GDP from Europe on Friday.) Also, Brexit negotiations are still ongoing. French PM Macron agreed to back off regarding fisheries. Progress seems like it is being made, however expect negotiations to extend until early/mid-November.
The BOC is also expected to remain on hold this week at 0.25%. The Central Bank continued to say that they will keep QE in place until the economic recovery is well underway. Canada's unemployment rate has down ticked, and inflation has risen (however not to the 2% target). Retail sales ex-autos also rose from -0.4% in July to +0.5% in August. However, with a rise in coronavirus cases, some areas have once again put under local lockdowns, which some fear may impact Q4 economic data. In addition, WTI crude oil was down nearly 2% on Friday and is currently down nearly 3% today. The Canadian Dollar and Crude oil trade inversely to each other. Therefore, traders need to pay attention to crude oil, which may affect the direction of EUR/CAD.
EUR/CAD has been in a cup-and-handle formation since early March when the coronavirus pandemic first began. Price pulled back to just below the 50% retracement level before reversing and testing the March highs near 1.6000. EUR/CAD pulled back again in August (to form the handle) until August 30th. Price then moved higher out of the handle and reversed in mid-October. The pattern is still valid as long as price holds the 61.8% Fibonacci Retracement level from the mid-May lows to the July 31st highs near 1.5400. Notice that since the beginning of October the Canadian Dollar has been weakening (higher EUR/CAD) while Crude has been moving lower.
On a 240-minute timeframe, price has been trading off the October 14th lows in an upward sloping channel. Today, price broke above the 61.8% Fibonacci level from September 30th highs to the October 14th lows at 1.5605. If price holds this level, bulls are in control and we can head up to first resistance at 1.5650. Next resistance is the September 30th highs near 1.5700. First support is the bottom trendline of the channel near 1.5535 and then the October 14th lows near 1.5400.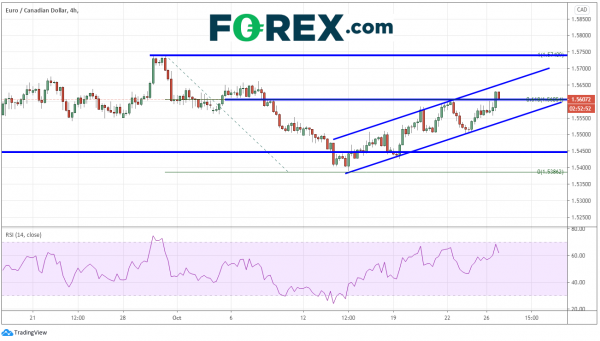 The price of EUR/CAD this week is most likely dependent of a surprise from the BOC or the ECB and the price of crude oil. Coronavirus cases will be important to watch as well, as more coronavirus cases mean less demand for crude, with means lower CAD (higher EUR/CAD).