Commodities including gold have been amongst the hardest hit. In this article we examine the reasons behind the sharp fall in gold and what lies ahead for the yellow metal. I will start by examining the impact of the Feds pivot on the interest rate market. From here we will draw a line between interest rates, the US dollar and connect the reasons behind golds sharp decline.
Learn more about trading commodities here
The Feds projected earlier start to interest rate hikes indicates less interest rate hikes will be needed than if rate hikes commenced later in the cycle. This has contributed to real yields rising sharply over the past 48 hours from deeply negative levels.
Real yields are nominal yields minus the rate of inflation. As can be seen on the chart below, golds appreciation since the beginning of 2019 has coincided with a move lower in real yields and accelerated as real yields slipped into negative territory during the pandemic. It can be concluded the sharp rise in real yields the past 48 hours has contributed to this week's sharp sell-off in gold.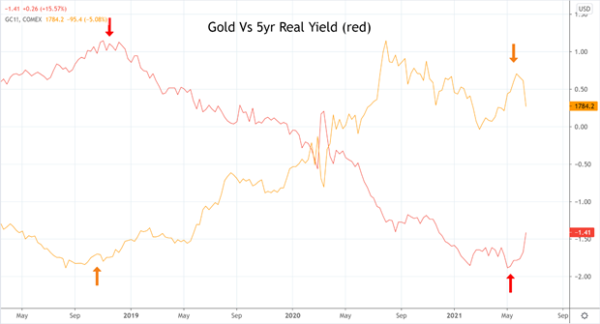 The rise in front end US yields has supported a 1.50% rise in the US dollar index, the DXY over the past 48 hours. As can be viewed on the next chart below, the US dollar and gold are negatively correlated. This means a stronger US dollar is a head wind for gold.
For as long as real yields continue to move higher, along with a stronger US dollar it is a combination likely to put the inflation narrative that supports gold in the back seat for the time being.
Technically, the break below support at $1850/40 earlier this week resulted in a shift from a positive bias to a neutral bias and the break below $1800 presents a more negative outlook.
Based on this and the shifts outlined above, the expectation is for gold to test weekly uptrend support in the coming weeks at $1725, coming from the May 2019, $1266 low.