November has been off to a much better start for USD than October ended. Add seasonality to the Mix and DXY could be in for a positive close this month. This ties in nicely with Tuesday's analysis, which showed bearish engulfing candles tend to provide bullish reactions on DXY. However, looking at seasonal data for DXY, things continue to look hopeful for the bull-camp in November.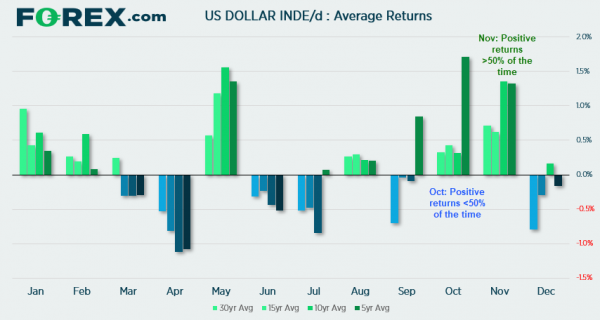 63% of Novembers over the past 30 years have produced positive returns (highest of the 12 months)
Average returns for 5, 10 and 15 years are also positive over 50% of the time (meaning average is not propped up by outliers)
Variance of high-low volatility in November is the 3rd lowest of the year in November, whilst October is the 2nd highest (meaning the data set for November is more stable and less prone to outliers, unlike October).
What about October? If we were to focus on average returns, we could have expected October to perform well (which it clearly wasn't, being the worst monthly close since January 2018). Yet it's worth noting that DXY has closed lower nearly 57% of the time in October, and there's no clear relationship between positive expectancy or positive returns over the past 5, 10 or 15 years sampled. This is unlike November, which has posted positive expectancy and positive returns on average over 5, 10, 15 and 30 years sampled.
With 17 trading days in the month left to go, it leaves plenty of time for markets to push DXY in either direction. Yet the stats appear promising for a bullish close none the less.
DXY produced a small, bearish pinbar below 98 and around the 50 and 100-day eMA's, leaving the potential for a pause in the move or a retracement.
Bullish momentum leading up to 98 is strong, so an eventual break higher is anticipated.
Bulls could look for a pullback / flag to form and enter on a potential dip or wait for a break above 98 to confirm trend resumption.
Also keep an eye on AUD/USD and EUR/USD as they hover near key support levels (USD/CAD is also building a base above 1.3100).
What about December? We can see that average returns for DXY have been negative over the past 30, 15 and 5 years. But it's also worth noting these periods are also bearish over 50% of the time. So, December doesn't tend to fare so well as Santa's rally gets underway.