The Coronavirus is having fallout effects on other markets besides those related to China, Southeast Asia, and even global stock markets. Light Crude Oil Futures have been on a one-way street since January 8th, when Iran used drone attacks on American bases in Iraq. The high on that day was 65.65. Today's low, a mere three weeks later, is 52.13. Crude paused on is move lower near an upward sloping trendline and the 200 Day Moving Average around 58.00 as the US-China Phase One trade deal was signed. However, once fears of spread of the Coronavirus started making its way around the market, that level was broken by a bearish engulfing candle and price hasn't looked back since. Fears are that a slowdown in China will occur and the demand for oil will be reduced, hence pushing price lower. Crude is nearing support at 51.00 and the RSI is oversold, so perhaps a bounce is ahead.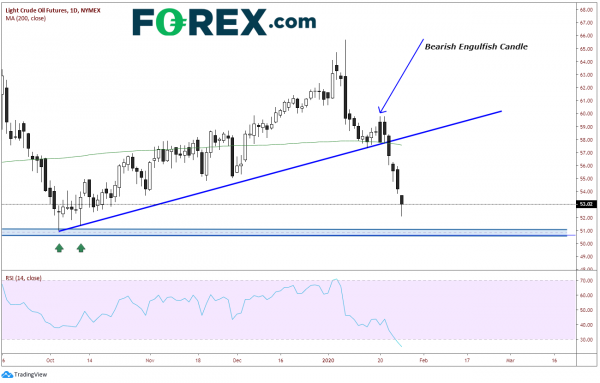 The Coronavirus also is having a large impact on the economy in Norway. The reason is not that the virus is spreading all over the country. The reason is that the Coronavirus is affecting the value of the Norwegian Krone! On a daily timeframe, we can see that in December the price of USD/NOK had begun falling after price broke out of the rising wedge. The target for the breakdown of a rising wedge is 100% of the wedge. At the end of 2019, USD/NOK had retraced 61.8% of the low from June 24th, 2019 to the highs October 29th near 8.787.
On a 240-minute chart, we can see that since the beginning of 2020, USD/NOK has bounced off support and moved higher. Norway is an oil exporting led country. So, the value of Crude has a direct impact on the price of the Krone. In the bottom panel is the correlation coefficient between Crude and USD/NOK. There is currently a -.89-correlation coefficient for the two instruments. A reading of -1.00 means that the two are perfectly inversely correlated. The current reading suggests the when the price is crude is moving lower, the price of USD/NOK is moving higher.
However, notice that USD/NOK is currently in a resistance zone near 9.1500/9.2000. The RSI is overbought and above 80 (extreme overbought) and is turning down. This indicates that pair may be ready for a pullback, especially if the price of crude holds and moves higher.
If news suggests that the Coronavirus is spreading, it may suggest a larger slowdown in China, which means less demand for oil. If there is a lower demand for oil, USD/NOK may continue to rise. However, if the virus is contained, it may put a bid in oil and as a result, USD/NOK may move lower.