Overnight the U.S. dollar weakened against other major curries as investors' risk appetite improved. Market sentiment was boosted by potential development of coronavirus vaccines and further easing of lockdown measures in the U.S. and around the world.
Federal Reserve Bank of St. Louis President James Bullard said he expects the U.S. economy to recover strongly in the third quarter, with jobless rate dropping below 10% by the year-end.
The Dow Jones Industrial Average jumped over 2% to near the 25000 mark, while the ICE U.S. Dollar Index slid 0.7% on day to a three-week low of 99.01.
Meanwhile, U.S. WTI crude oil futures (July) increased 3.3% to $34.35 a barrel. And the Canadian dollar rose along with oil prices.
USD/CAD plunged 1.5% to end overnight's session at a two-month low of 1.3784.
On an Intraday 30-minute chart, USD/CAD has located a Key Resistance at 1.3825.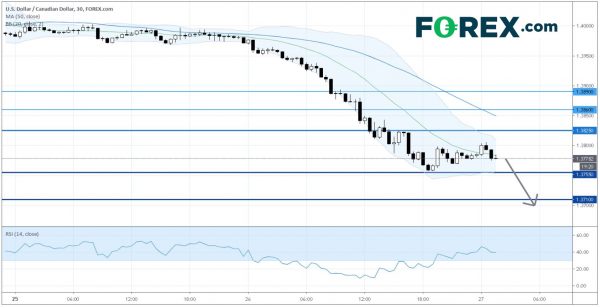 USD/CAD is currently trading at levels around the descending 20-period moving average, which stays far below the 50-period one.
A return to 1.3755 (around the low seen overnight) would place the next Downside Support at 1.3710 into sight.
Alternatively, a break above 1.3825 would open a path toward 1.3860 on the upside.