On Friday, the US released Non-Farm Payrolls at +210,000 vs an expectation of +550,000. Just as important, the Unemployment Rate fell from 4.6% to 4.2%, with an increase in the Participation Rate. However, the mixed jobs report shouldn't really affect the outcome of next week's FOMC meeting as there are two other issues that Fed will be focused on when they meet: Inflation and Omicron. On Friday, markets will get a look at November's CPI data. The expectation for the headline print is 6.7%! The expectation for the Core print is 4.6%! The Fed targets 2% inflation! Last week, Powell threw in the proverbial towel when he testified before the Senate and Banking committee that he is retiring the word "transitory" to describe inflation. However, he still believes inflation will begin to move lower in the second half of next year. He also said the Fed may end tapering a few months earlier than planned. Omicron is the other variable the FOMC will be watching. Thus far, reports have been mixed regarding the severity of the coronavirus variant. Will the FOMC want to wait for more information before they decide if they'll increase the pace of tapering bond purchases? Watch for further headlines this week.
The Bank of Canada (BOC) meets on Wednesday this week fresh off Canada's stellar employment data, also released on Friday. Canada added 153,700 jobs to its economy in November vs an expectation of only +35,000 and +31,200 in October. Canadian jobs figures are split between part-time jobs and full-time jobs. At times, this calls into question the headline number. However, not last month. The jobs were almost a 50/50 split. In addition, the Unemployment Rate fell from 6.7% to 6.0%, even with an unchanged participation rate! The BOC will also be questioning higher inflation and Omicron. Canada's headline data for October was 4.7% vs 4.4% in September. The November print will be released next week is expected to be 4.7%. Recall that the BOC surprised the markets at their last meeting when they ended their bond buying program. There will not be new forecasts at this meeting, therefore, the BOC is likely to keep interest rates unchanged at this meeting. This will give them more time to see how Omicron evolves before their next meeting.
USD/CAD recently retraced 100% of the descending wedge that the pair had broken out from on October 21st near 1.2362. In addition, it broke above a long-term triangle (Green line) the that dates to July 5th. Thus far, USD/CAD is holding about the September 29th highs at 1.2775. However, if the pair breaks below Friday's low of 1.2743, it can fall to horizontal support 1.2600. Below there is the 50- and 200- Day Moving Averages at 1.2538 ad 1.2473. Near -term horizontal resistance above is at 1.2897, 1.2949, and long-term horizontal resistance at 1.2990.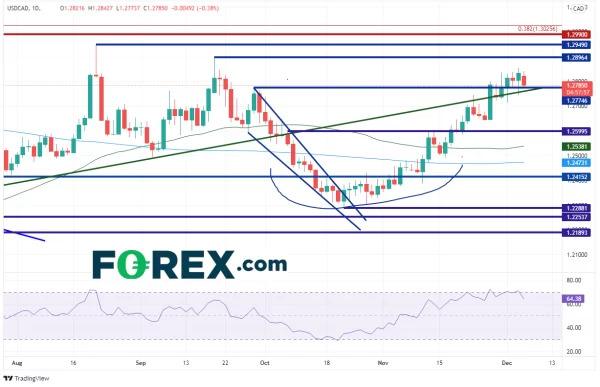 With the Bank of Canada meeting on Wednesday this week and US CPI data on Friday, USD/CAD could be in for some volatility this week. And don't forget about oil! If the price of crude rebounds from last month's selloff, USD/CAD could be headed lower, at least into the FOMC meeting!