What is push technology?
Push technology, or server push, is a style of Internet-based communication where the request for a given transaction is initiated by the publisher or central server. It is contrasted with pull/get, where the request for the transmission of information is initiated by the receiver or client.
Push services are often based on information preferences expressed in advance. This is called a publish/subscribe model. A client "subscribes" to various information "channels" provided by a server; whenever new content is available on one of those channels, the server pushes that information out to the client.
Subscribing to Action Forex Trade Idea push alerts
When you come to ActionForex.com website, with supported browser and platforms, you will notice that there is a pop-up box inviting you to subscribe to our trade idea alerts. Simply click "Yes" and you'll get notifications when we update our trade ideas.
Currently, Trade Idea push notifications are supported on Chrome, Firefox and Opera web browsers on the Desktop (any OS) and on Chrome, Firefox as well as Opera on Android smartphones.
If you don't want to subscribe to it, just click "Block". If the box continues to appear after you click "Block", please email to This email address is being protected from spambots. You need JavaScript enabled to view it. and let us know. We will fix it.
You can also click on the Subscribe button below to opt-in to push alerts.
STOP getting the alerts!
Usually, we post over 20 trade idea updates in total every day. That can be too overwhelming for you unless you're as enthusiastic as we are.
The easiest way to unsubscribing from push notifications is to click the button below and you will be unsubscribed no matter which browser you are using. However, if for some reason the Unsubscribe button is not working, you can follow the detailed steps for specific browsers below.
On Chrome (Desktop):
To unsubscribe from Push Notifications on Chrome, you can right click on any notification and then click on Disable Notifications from ActionForex.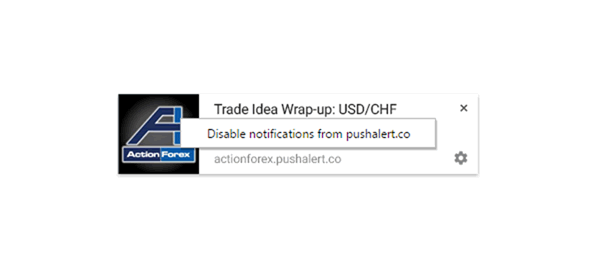 You can also go to the Address Bar, click on the "Info icon" on the left of the URL. Click on Site settings and then scroll down to Notifications. Click on Manage Exceptions, and then search for "actionforex.pushalert.co" and then click on the "X" at the end. You will no longer receive any notifications.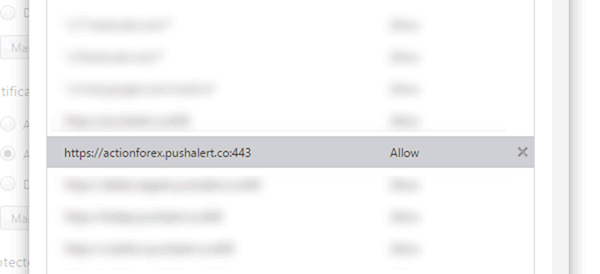 Chrome (Android):
As soon as you get a push notification, click on Site Settings and then "Clear & Reset." That's it.
On Firefox (Desktop):
Click on the "Info icon", under permissions click on "X" next to Allow and you will not receive any push alert in the future.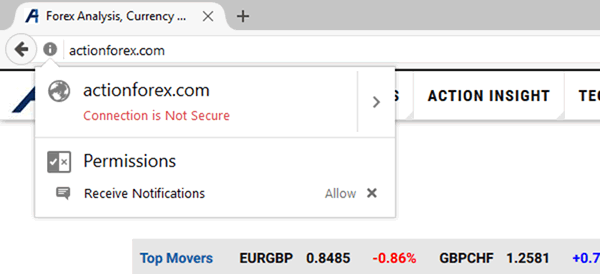 On Firefox (Mobile):
Click on the "Info icon", then "Edit Site Settings", check mark Notifications and then hit Clear.
Re-subscribe to Notifications
If you want to re-enable push alerts on your phone or desktop, it is quite easy. Just click the button below and you will be prompted to subscribe to notifications again. The Re-subscribe button would only work if you aren't subscribed earlier and have not blocked notifications. If you had blocked notifications you can click the button below too.
Unblock Push Alerts
If you blocked notifications by mistake, it's easy to unblock. Just click on the button below and based on your browser, you will be shown instructions to unblock push alerts.