For the bushy-tailed and bright-eyed newcomer, technical analysis of the Forex market often becomes an obsession.
I know for me it was.
Although you will learn there is much more to successful trading (such as trade management, position sizing and phycology) technical analysis is still the cornerstone of a solid trading plan.
Traders ignore the price at their own peril, no matter their fundamental view.
But like Alice in wonderland, you can get lost down a very big technical analysis rabbit hole with the multitude of methods available.
So instead of cluttering your trading screens with esoteric techniques of limited value such as Gann Angles or Elliot Wave theory, let's look at a simple technique that stands the test of time.
Support and Resistance
I'm sure you have noticed that the price does not move in a straight line. To the uninitiated, it might even seem like the price moves at random.
This is far from the case. Like any market, Forex has a structure and this is dictated by support and resistance levels.
What are support and resistance levels?
Without getting overly complex, support and resistance levels are key prices the market gravitates towards and bounces off – and they create excellent trading opportunities.
Support is a key level that is below the current price.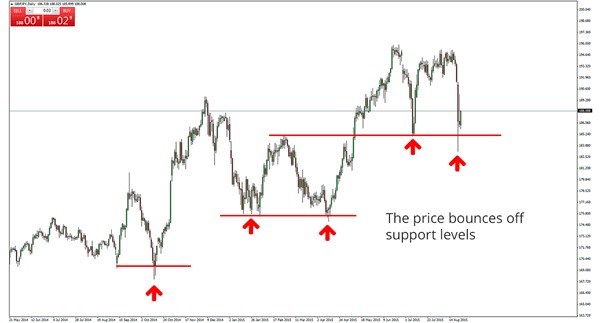 Whereas resistance is a key level that is above the current price.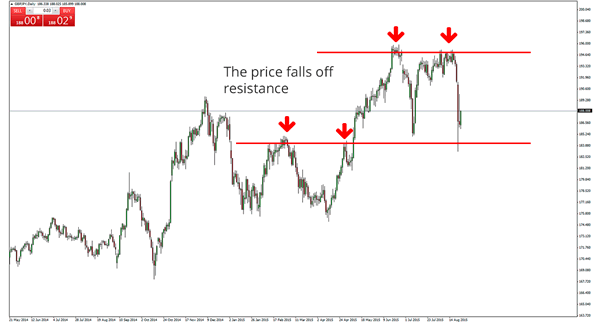 Of course, support and resistance levels are not sacrosanct. There will be plenty of times when support and resistance levels do not hold.
Good trading is not about being right every time. It is about probabilities and protecting yourself when the market does not go in your favour.
Support and resistance levels serve as your edge. They improve your chances of placing a successful trade – that is all.
How to Identify Support and Resistance Levels
Identifying support and resistance levels is part art and part science. Different traders will look at the same chart, and often see different things.
In saying that, some support and resistance levels will be pretty clear to most traders. Look for significant levels where the currency pair has stopped and reversed in the past.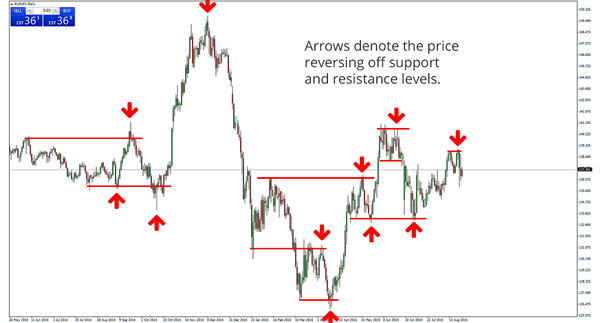 You will note that support and resistance levels are not generally respected to the tee. Instead, the price will move to the level, perhaps over or undershooting it to a degree, before changing direction.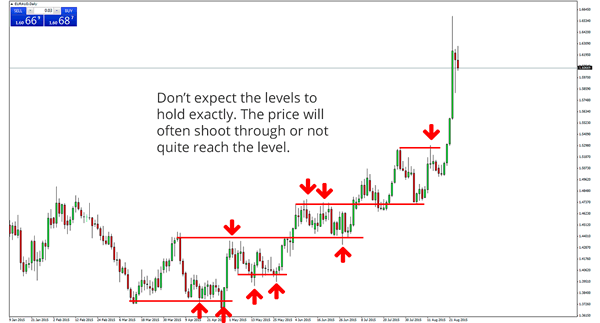 Support and resistance levels for long and short term traders
No matter if you plan to be a day trader or long-term trader, you should identify support and resistance levels.
You will notice them come into play on every kind of chart, from 5 minute to weekly and even monthly.
You can see the crucial role they play on this 1-hour chart of the USDCAD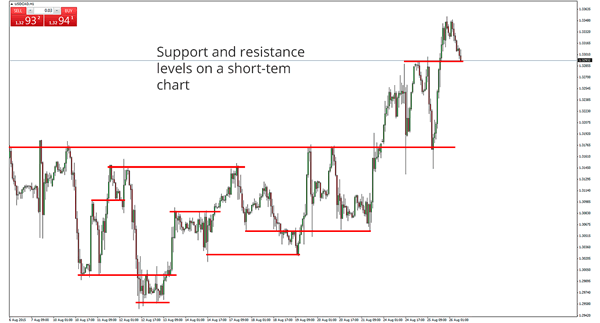 And here on the 15 minute chart of the CHFJPY.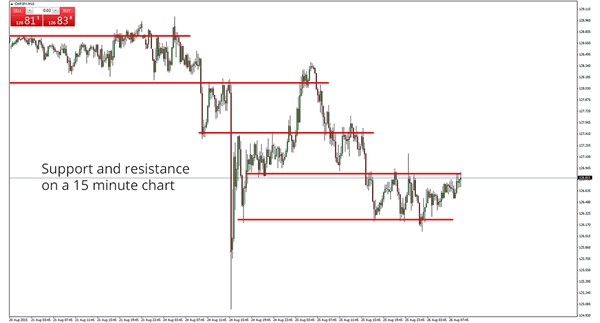 Swapping roles: Support turns into resistance (and vice versa)
One characteristic of support and resistance levels is that support turns into resistance and vice versa.
This is because the levels gain psychological significance. Once they become important, they remain that way, even after the level has been breached.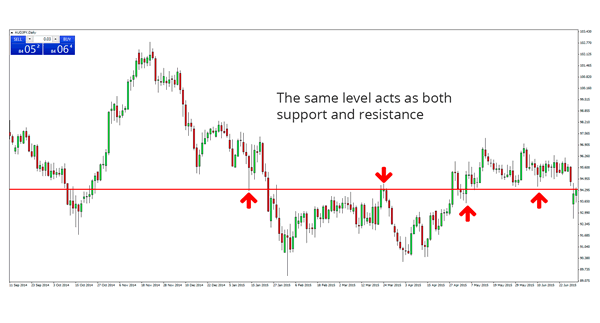 How to trade using support and resistance levels
Support and resistance levels can be traded in two ways:
You can trade the break through a support or resistance level
You can trade the reversal off a support or resistance level
To trade a break, you wait for the price to move through the level and then enter in the direction of the trend.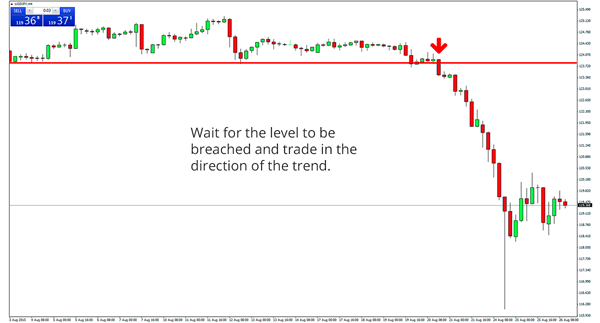 To trade the reversal, you're going to want to enter against the trend once the price has either hit or reversed off the level.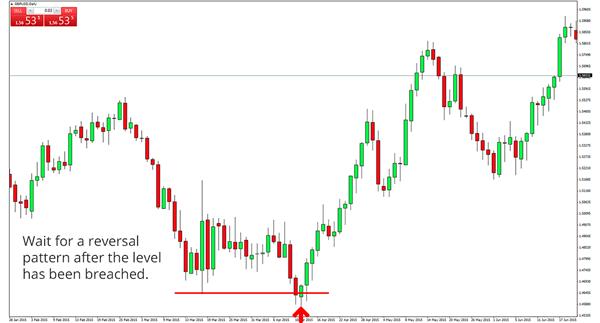 Which is the right option for you?
It often comes down to your psychology. Do you like the trend to be your friend? Or are you more comfortable being a contrarian?
If you are not sure, try taking a few small trades and seeing what fits.
Keep it simple
Learn to use support and resistance levels in your trading in a step by step fashion.
Start by selecting your trading timeframe such as 1 hour, 4 hour or daily. Next, plot the support and resistance levels you identify on your chart.
Now is the time to be patient. Watch them carefully and see how the price responds. Does it tend to break the level? Are the reversals sudden or slow?
Next, it's time to engage your creative gears. What opportunities can you see in front of you? How can you trade them?
And finally, don't forget to have a plan for limiting your risk if the trade does go against you.