Economic activity strengthened in September with the ISM non-manufacturing index rising to a 21-year high. Fueling the gain was a record-high employment index. We have raised our estimate for payrolls to 210,000.
"Every Day Is a Bit Better Than the Last"
The ISM non-manufacturing index hit a 21-year high in September, leaping 3.1 points to 61.6. Current activity, new orders and supplier deliveries all increased. Backlogs continue to rise, helped in part by elevated levels of export orders.
While price growth for manufacturing inputs has cooled from the torrid pace this spring, input prices for the rest of the economy show few signs of easing.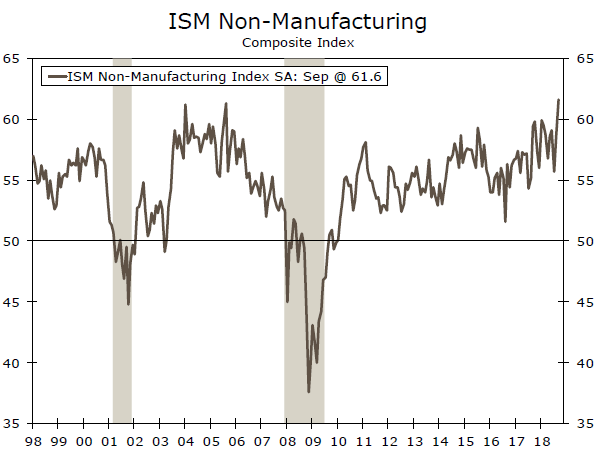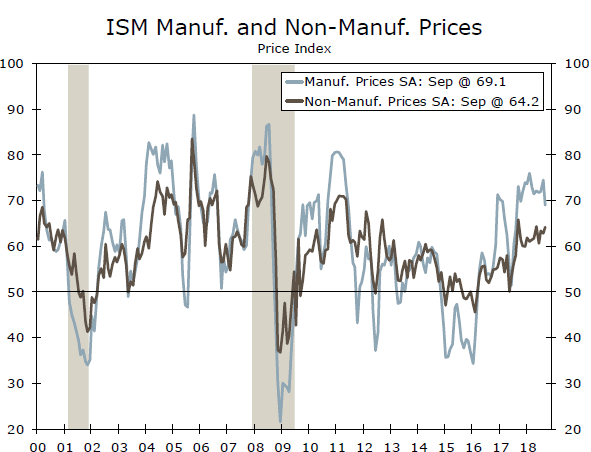 "Cautious Due to Limitations in Available Manpower"
The employment index jumped to an all-time high of 62.4. We have subsequently raised our September nonfarm payroll forecast to 210,000 from 185,000. Respondents noted, however, that labor shortages are beginning to weigh on growth and earnings.
On an economy-weighted basis, the ISM indices rose to 61.4. The fresh cycle-high supports our call for GDP growth to remain solid as we head into the fourth quarter.