2019 is not off to a great start for dollar bears and US stocks.  With liquidity starting to flow back into the markets, risk aversion especially hit the bond markets as yields continue to slide.  The 10-year yield on US Treasury's fell 1.8bps to 2.665% and German Bunds are off by 8.2bps at 0.153%.  Early in Asia, the risk-off move was supported by further data that showed China is slowing.  The Caixin China reading for December fell into contraction at 49.7, lower like the official gov't reading (49.4) at the end of last year.  With both the private sector release and the official PMI reading for the second largest economy falling to negative territory, expectations are growing for the PBOC to act sooner.  The trend of lower yields and equities is the current theme of the market as trade concerns and slower growth fundamentals appear firmly in place.
After the US open, the US December Manufacturing PMI reading came in at 53.8, softer than the flash reading of 53.9.  The headline reading was the lowest since September 2017, while the components also showed weakness.  Employment declined from 55.3 to 52.7, the worst reading since June 2017 and new orders declined month over month.
US Stocks are down over a full percent with the S&P 500 down 1.3% at 2,474 and the Dow down 1.1% 23,069.  The dollar is also firmer against the high-beta currencies, up 0.9% with the euro, 1.0% to cable, and 0.9% with Aussie dollar.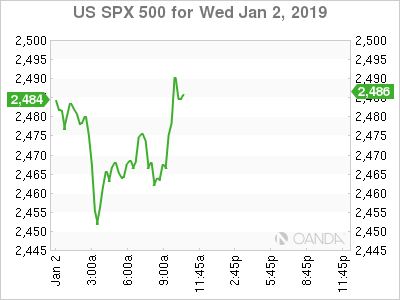 The EUR/USD daily chart shows price is testing the 50-day SMA at 1.1368.  If we see 1.13 break, we could see price find support from the November 13th low of 1.1215.  To the upside 1.15 remains key resistance.