Stocks
S&P500 futures have been falling since the second half of Wednesday, losing more than 1% from the peak levels. Market participants are trying to stick to thier profits after the recent rally, which sent the US and Chinese indices to multi-month highs. The JPY has touched lows against the dollar since mid-January. The moderate demand for protective assets on the background of relatively good data is a sign of cautions of the markets before the long weekend in Europe due to Easter Holidays.
EURUSD
The single currency lost more than 50 points (0.4%) to 1.1250 in response to disappointing PMIs. Indicators for the euro area were significantly worse than expected. The manufacturing index has remained below 50 since February, signalling a reduction in production. The indicator for the service sector declined from 53.3 to 52.5. Composite PMI remains dangerously close to 50, which separates growth from decline. This is not the first time this year when the euro falls under pressure after disappointing PMIs, considered to be a reliable indicator of business activity several months before the official estimates. Continued decline returns to the agenda a downward trend in the pair.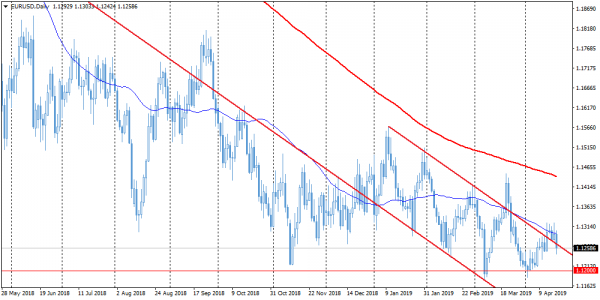 GBPUSD
GBPUSD has been falling for the third day in a row, coming close to the psychologically important 1.30 level. The pressure on the pair is caused by confrontation in the Parliament, as well as disappointing data from the eurozone. At the same time, fresh retail sales data turned out to be extremely strong. Instead of the expected decline in March by 0.3%, there was an increase of 1.1%. These are pro-inflation news that can help the British pound to swim against the stream, despite the general wary mood in the markets. It is worth paying attention to the dynamics near 1.30 and at 1.2970 – where the pair has received support for the last 2 months.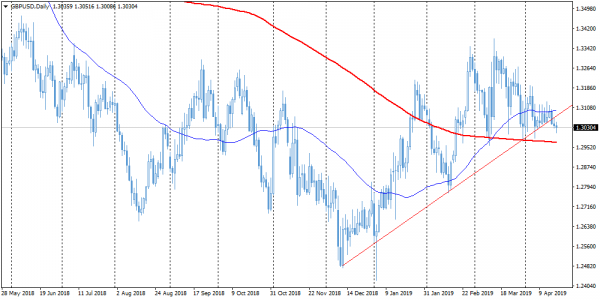 Brent
Despite the sanctions against Venezuela, oil is under pressure on Thursday. After updating the semi-annual highs at 71.80 per barrel of Brent, black gold declined, trading at the time of writing near 70.90. It is important that the RSI fell under 70, returning from the overbought zone, which may cause an increase in pressure, becoming a signal to start profit taking.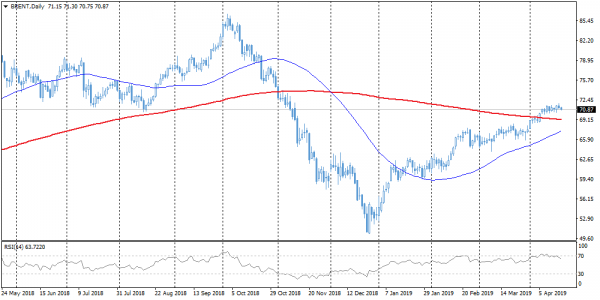 Gold
Impressive global markets optimism put pressure on gold prices since the beginning of the year. The growth in US bond yields and multi-month highs in stock indices were probably one of the reasons for the sharp weakening this week. In addition, seasonal factors also play against gold, as it rarely manages to grow between March and August. The closest significant support level is at 1250 – an important level, plus MA(200) passes through it at the moment.