Key Points:
Federal Reserve has largely achieved their dual mandate.
Inflationary pressures rising within U.S. domestic economy.
March FOMC meeting likely to be a `live' event.
The past week has seen an uptick in hawkish rhetoric from a range of US Federal Reserve members suggesting that the central bank could be preparing us all for the start of a cycle of tightening. In particular, the Fed's Williams and Harker have been front and centre in the veritable public relations blitz, suggesting that the FFR has been 'abnormally' low for too long. Therefore, there is a real chance the March FOMC meeting could be a live one. However, let's take a look at the underlying economic data that could be used to support a rate hike.
The US labour market has continued to strengthen throughout the past six months with the current headline rate reaching 4.6% in December. This level of unemployment is effectively below the natural rate and should be something that the central bank looks to when assessing the growing risk of inflation.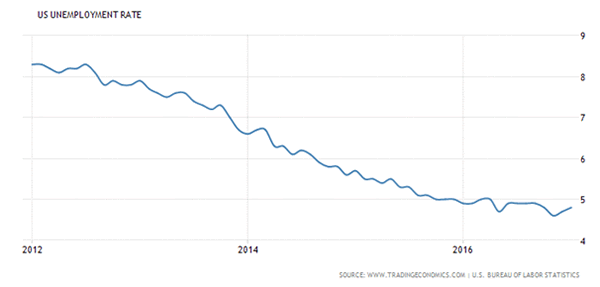 In addition, the US average hourly earnings metric has continued to strengthen over much of the last year. This is likely another metric that the central bank will take serious consideration of as they attempt to get ahead of any potential inflationary pressures within the economy.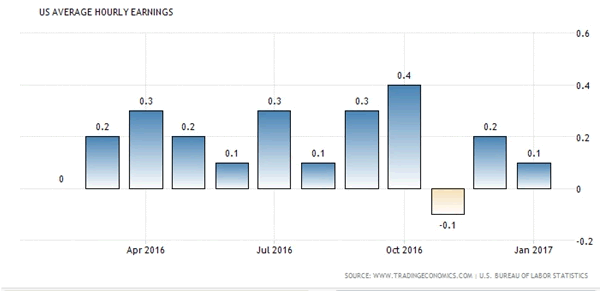 Inflation has also been on the march within the domestic economy with the latest figure from February, 2017, showing a gain exceeding forecasts, of 2.5%. Subsequently, there is a definite trend within the available data showing an upward move of inflation that isn't looking like abating any time soon. In fact, much of 2016 showed solid gains in headline inflation which has placed additional pressure on the Fed to act on rates.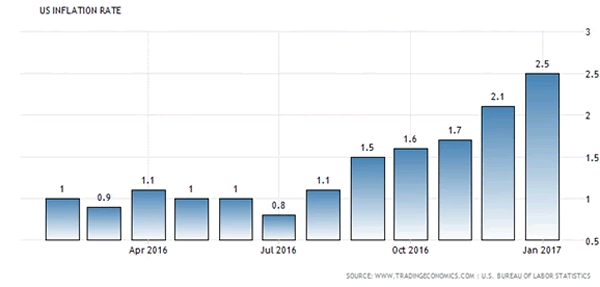 Subsequently, it would appear that the central bank has largely met their dual mandates of full employment and stable price inflation. However, the latter could be at risk in the medium term if the Federal Funds Rate (FFR) remains at the historically low level further stimulating the economy. Although there has been some relatively robust debate on whether to raise the expected range for inflation in the medium term there is little support for headline rates above 3.0%.
It would therefore appear that there is a mounting case for the FOMC to act on rates in March given that the vast majority of indicators that support their mandate have been fulfilled. The question must be asked that if the current economic environment is not conducive to rate rises…when will it be. Ultimately, the Federal Reserve is highly likely to raise rates by 25bps in March given the underlying inflationary pressure evident within the economy. Subsequently, it makes sense to consider the March event a live meeting and to position accordingly.