Hong Kong shares pressured
It was a quiet session in Asia to open the week with equities performing better than other asset classes. Most indices countered Friday's losses on Friday, eking out small gains without any particular motive driving sentiment. US indices rose between 0.20% and 0.25% but Hong Kong stocks under-performed following more weekend anti-government protests which turned violent again. The HK33 index slumped 0.75% to 28,540.
On the currency side, the yen was slightly better offered, falling 0.2% vs the US dollar and 0.07% versus the Australian dollar. The pound was steady versus the greenback as markets await the result of the Conservative Party leadership race, which will probably be known tomorrow.
GBP/USD Daily Chart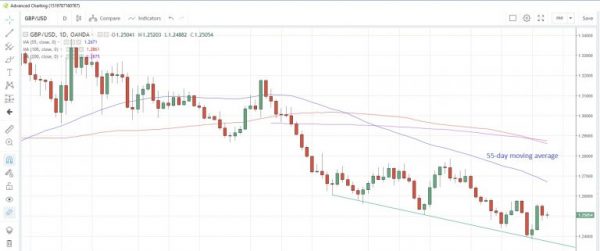 Raising the debt ceiling
The US press is reporting that the Trump Administration and legislators are close to reaching an agreement on US budget caps and the debt ceiling. The deal supposedly raises the debt ceiling for two years while spending limits would also be set for two years. It is believed that any spending cuts would be in the future and seen significantly below the $150 billion requested by the Trump Administration. Last Thursday, US Treasury Secretary Mnuchin said there could be cash issues as early as September if the debt ceiling was not raised.