The dollar extended yesterday's losses on Friday after the US GDP growth initial estimates for the second quarter of the year came in as expected but employment costs and the first look on quarterly inflation based on the PCE measure disappointed analysts.
According to the Bureau of Economic Analysis, the US economy expanded substantially as expected by 2.6% on an annualized basis in the June quarter, approaching Trump's desired growth target of 3% for 2017. The figure for the first three months of the year was revised down from 1.4% to 1.2%. The upbeat increase was attributed mainly to a 2.8% rise in consumer spending which diverged significantly from the 1.9% observed in the first quarter, while business investment also contributed positively, with business spending on equipment recording its biggest improvement since 2015 (8.2%).
However, what disappointed traders was the GDP price index reading. The index, which is a broader measure of inflation, dropped sharply to 1% quarter-on-quarter from 2% (upwardly revised from 1.9%), missing the forecast of 1.3% and reaching the weakest growth in a year.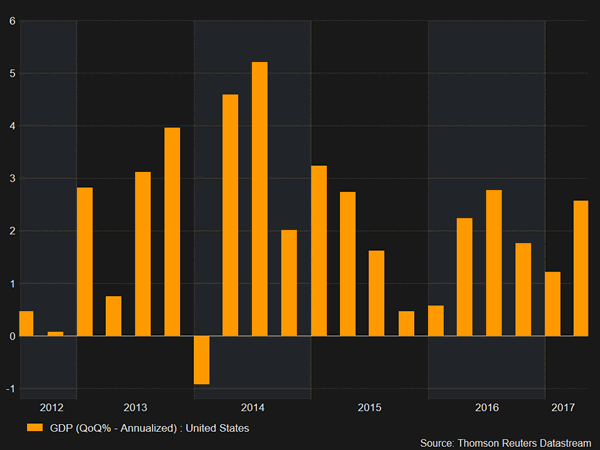 Moreover, the employment cost index, which gauges the change in wage growth, also fell short of expectations. The index rose by 0.5%, far below the 0.8% seen in the March quarter and the 0.6% anticipated. US wages dropped by 0.7% from 0.6% in the first quarter.
Despite the initial estimates of US economic growth being encouraging, wage growth remains weak even though the economy is operating under full employment conditions, a fact that could potentially restrict consumption in the coming quarters. In addition, inflation does not show any signs of approaching the Fed's target of 2%, justifying the Fed's concerns about prices trending below the target for a longer period than anticipated.
Looking at the forex markets, the dollar continued its downward path against its major rivals despite the upbeat GDP growth. The dollar index sank by 0.32% immediately after the data, touching an intra-day low of 93.20. Dollar/yen declined by 0.38% from 111.26 to 110.91, while euro/dollar jumped by 0.20%, from 1.1720 to 1.1743.