Key Points:
Inflation and Retail Sales slowing.
Market has largely priced in the risk of hawkishness.
Current risk profile is slanted to the downside.
The Bank of England's monetary policy committee is set to meet in the coming day to provide a decision that could prove relatively explosive for the Cable. Presently, the Cable is trading at around the 1 year high which suggests that the many within the market have already partially priced in the risk of hawkishness from the central bank. However, the question remains if the central bank will simply disappoint the wider market with a less than robust decision.
To review the current facts, the BoE met last month and surprised the market with a 5-3 vote to not raise the official bank rate. The risk of additional dissenting votes had largely not been reflected in the positioning ahead of the decision and the Cable suddenly took a bullish direction. What was particularly illuminating was Carney's statements following the event which suggested that the central bank would considering the rising inflationary pressures over the next few months. Subsequently, speculation has been rampant that the BoE is preparing to take lay out a plan for monetary tightening at the coming meeting.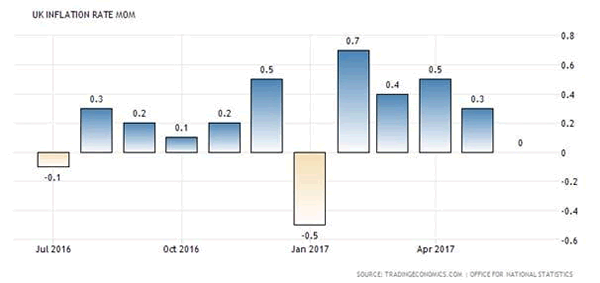 However, the market could be in for some disappointment as the UK retail spending, and inflation figures, have not been particularly robust over the past month coming in at 0.6%, and 0.0%, respectively (M/M). Whether this becomes a trend or is simply an anomaly within the data will remain to be seen but it certainly complicates the central bank's looming decision. Subsequently, there is currently a disconnect between what the market is largely pricing in and the underlying economic data that the central bank is likely to make their decision upon.
Ultimately, the most likely scenario for the coming meeting is that the official bank rate will remain on hold at 0.25% and that the central bank will take a "data dependent" view moving forward. In fact, I expect that the present vote divide of 5-3 is likely to remain in play. It's clear that the bank will need to normalise policy at some stage this year but the coming MPC isn't likely to be it. However, the impact on the Cable could be relatively negative given that the market is pricing in some fairly sharp hawkishness, if not a hike, from the decision. Subsequently, keep a close watch on the Cable because the downside could be beckoning in the wake of the decision.