'Fire & Fury' Faces Risk-Off
Aussie Lost Its Momentum
RAND Sell-Off Continues
'Fire & Fury' Faces Risk-Off
The geopolitical tensions have prompted a risk-off trade amid investors. President Trump's comments about North Korea have created nervousness and the fear is if the president really means what he said 'fire and fury'. The typical text book trade is that investors rush for the safe haven hence we have experienced a bounce for the gold price. A couple of days ago, we did mention that the gold price could also stem its losses if the tensions escalate around North Korea.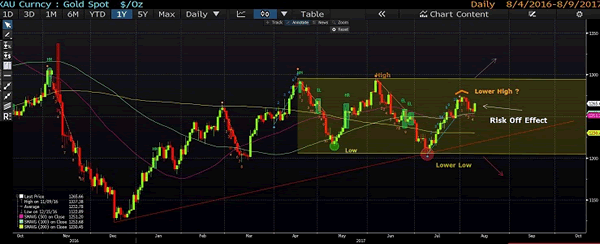 The Chinese inflation data was tucked under the shadow of President Trump's 'fire and fury' phrase. Although it is worth mentioning that the inflation number was a little softer and this means the spill over effect is going to echo the same message in other major economies.
Aussie Lost Its Momentum
The Aussie benefited from the dollar weakness but the rebound in the dollar got the Aussie in trouble. The Australian business confidence was much healthier yesterday which presents a more optimistic scenario for the uptrend to resume. The weak consumer sentiment reading broke the Aussie rally further. But it is the RBNZ which is going to face all the flash lights, and fear of disappointment is always there. Traders are expecting no reaction from the bank. We are expecting the bank to come with their dovish or less hawkish tone because of the deterioration in the economic data but a lot of impact of that is already baked into the Kiwi.
RAND Sell-Off Continues
The South African Rand is punished by investors as president Jacob Zuma narrowly survived a vote of no confidence in the parliament. His victory triggered many stop losses as it was expected that he will not survive. We expect the rand to underperform against the dollar. In other words, the overly optimistic trade is over for now.