Key Points:
Reversal likely as the 100 day EMA is applying downward pressure.
Stochastics trending towards overbought.
Consolidation phase could end shortly.
The EUR looks poised to have another near-term slip in the wings as its latest attempt at pushing through the 100 day EMA seems to have been met with failure. However, there could be a silver lining for the bulls out there as the medium-term consolidation phase could be only a week or so away from ending, the result of which will likely be a rally to the long-term trend line.
First and foremost, we need to confirm just how likely a reversal and subsequent downtrend is for the EUR. From a technical perspective, such an outcome looks all but assured given a number of factors. For one, the 100 day EMA is once again making its presence felt and is supplying some notable dynamic resistance. Moreover, stochastics are trending towards overbought which will only add to resistance moving forward.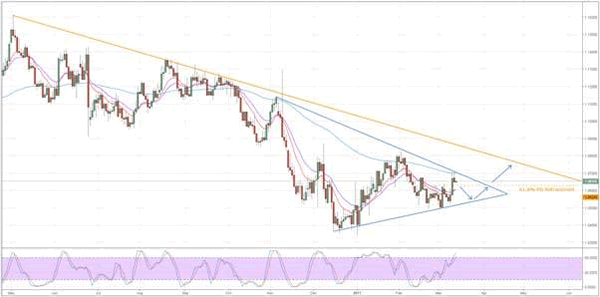 Aside from the EMA and stochastic biases, evidence for a reversal comes from the chart pattern that has developed over the past few months. Specifically, a fairly robust pennant seems to be forming up which should help to encourage the pair to drift lower in the coming sessions. This decline should come to an end around the 1.0550 handle before the downside constraint of the pennant kicks in and lends support to the Euro.
However, all is not lost for the bulls out there who may have been disheartened by the pair's inability to move above that 100 day EMA. More precisely, at its current trajectory, the EUR's consolidation phase is fast running out of wiggle room which should mean a breakout is on the horizon. As a result, there is likely only going to be one or maybe two reversals before the pair moves into a rather strong uptrend.
Ultimately, this uptrend will most probably be constrained by the long-term trend line which should limit gains to around the 1.0750 handle. However, by this point, we will have price action above the 100 day moving average which could help to see a long-term uptrend begin. If this occurs, the Euro will be well positioned to return to the price ranges seen early last year, much to the delight of the EUR bulls.