The NAHB/Wells Fargo Housing Market Index (HMI) fell 3 points to 64 in September, reversing August's gain. Both present and future sales fell by 4 points. The Midwest and South accounted for the bulk of the drop.
Homebuilder Confidence Declines Slightly
Homebuilder confidence fell slightly in September, as Hurricanes Harvey and Irma impacted the two largest states for new single-family homebuilding. Damages from the hurricanes introduce an element of uncertainty into the housing outlook and will likely bolster labor and material costs.
The drop in the HMI may signal some moderation in new home sales and homebuilding during the latter part of 2017.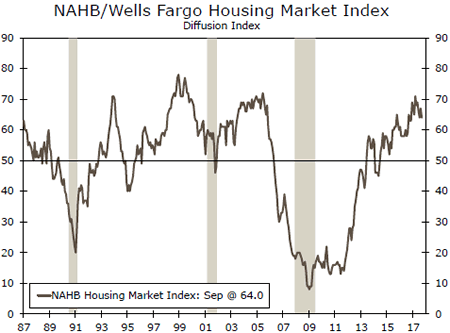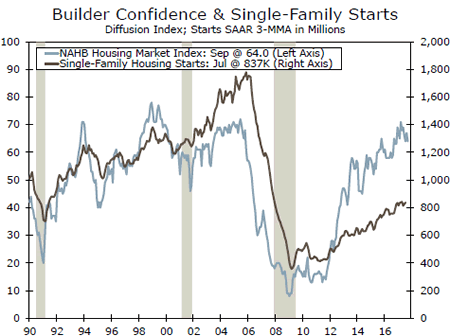 Hurricane Damages May Have Dampened Confidence
Harvey and Irma caused widespread damage in Texas and Florida, which may interrupt activity in states that combined to account for 25 percent of the nation's single-family permits.
Prospective buyers' traffic fell just 1 point to 47, which is the lowest since November 2016. Buyer traffic continues to be limited by low levels of completed homes but remains close to its recent range and is consistent with continued sales growth.