The Canadian currency outperformed most of its major peers in 2017. Whether that will continue or reverse in 2018 is likely to depend on monetary policy, the evolution of oil prices, and developments in the NAFTA negotiations. With the market having already priced in a significant degree of monetary tightening, and with oil prices likely to struggle to advance much further from current levels, the loonie may require a fresh positive catalyst to draw support from in order to continue its rally next year.
The Canadian dollar enjoyed a spectacular year in 2017, rallying more than 7% against its US counterpart, as the Bank of Canada (BoC) surprised many investors by raising its benchmark interest rate not once, but twice throughout the year. The continued strength in the nation's economic data and the notable gains in oil prices likely added to the currency's appeal. With the Canadian economy seemingly in a sweet spot, will the CAD extend its bull run into 2018, or give back its hard-earned gains?
The BoC appears set to continue hiking rates next year amid a tight labor market, an almost-closed output gap, and intensifying inflationary pressures. The main question for CAD-traders is whether the Bank will deliver more, or less tightening than investors currently anticipate. At the time of writing, markets have fully priced in three quarter-point rate hikes in 2018, according to Canada's overnight index swaps. Importantly, this implies that for the currency to strengthen further due to monetary policy next year, the BoC must deliver four quarter-point hikes, which seems a little too optimistic even factoring in Canada's strong economy. Simply raising rates three times will likely have little impact on the loonie as that is already priced in, while anything less than three will probably see the currency weaken.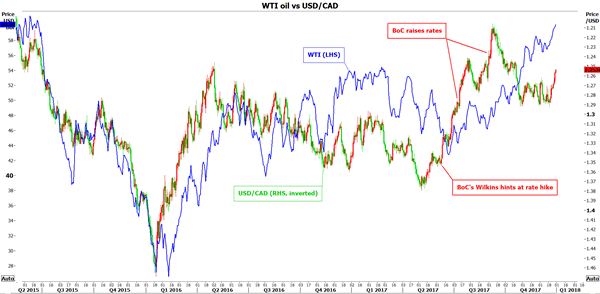 What about oil? While gains in oil prices benefited the loonie in the past, it is doubtful whether this will remain the case. WTI is currently trading near $60/barrel. Any significant upside from current levels will probably invite US shale producers to step back into the market and increase their production drastically as their profit margins recover, thereby keeping a lid on future price gains. Thus, barring some major surprise from OPEC or any short-term supply disruptions, oil will likely struggle to advance much further in the coming year.
NAFTA negotiations represent another risk for the loonie. Despite some progress on less controversial issues recently, several complex subjects have not even been discussed yet, casting a cloud of uncertainty over the CAD's outlook. That said, it is crucial to note that any breakthrough in these negotiations will likely see the currency surge, as uncertainty dissipates and markets price out the NAFTA "risk premium".
All the above considered, any major rallies in the CAD during 2018 may remain somewhat limited. The BoC may disappoint relative to market expectations, oil prices could correct lower, and NAFTA negotiations appear unlikely to conclude anytime soon. Such a scenario could see dollar/loonie ending the year slightly higher, perhaps close to its recent highs at 1.2900. On the flipside, some material progress in the NAFTA talks or perhaps more rate hikes than expected by the BoC, could see the cross sinking back to its September lows near 1.2060.