Japanese preliminary Q4 2017 GDP growth figures will be made public on Tuesday at 2350 GMT. Economists expect the world's third largest economy to post its eighth straight quarter of positive growth. A stronger-than-anticipated pace of growth could refuel market expectations for an exit from ultra-easy monetary policy by the Bank of Japan taking place sooner than earlier thought, boosting the yen versus other currencies.
Strong exports – foreign demand for Japanese products fueled by a recovering global economy – and domestic demand are prime contributors to the world's third largest economy looking set to record its longest run of uninterrupted growth since a period between 1986-1989 when the economy grew for 12 consecutive quarters; though that period was linked to a bubble.
On an annualized and quarterly basis, the growth rate is projected to stand at 0.9% and 0.2% respectively, falling short of Q3's respective figures of 2.5% and 0.6%. Analysts though, anticipate the expected slowdown to be non-persistent.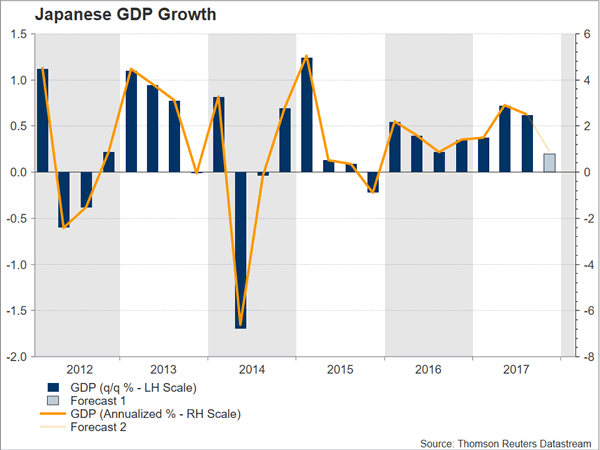 It is perhaps notable that capital expenditure is forecast to have increased for the fifth quarter in a row in Q4, supported by purchases of equipment to alleviate labor shortages as well as by robust demand from semiconductor makers. It is also perhaps interesting to mention that despite the anticipated strength in exports, forecasters project a trimmed-down trade surplus (exports minus imports) on the back of rising import costs from new-model smartphones and elevated oil prices.
In case of a data beat, dollar/yen is likely to head lower. This would especially hold true if the upside surprise delivered is large enough to incentivize forex market participants to push their expectations for policy tightening by the BoJ sooner in time. In this scenario, support could come around the 15-month low of 107.31 that was recorded on September 8. Momentum is negative at the moment for the pair (which is trading at five-month low levels), with a downside violation of the September low having the capacity to challenge the 107 handle, a level that may be of psychological importance.
On the upside and in case of a data miss, the area around 108 could act as barrier to price advancing. The range around this point encapsulated a few bottoms in the past and could be of significance. Further above, major resistance might come around the 110 handle, this being an area of congestion in the past.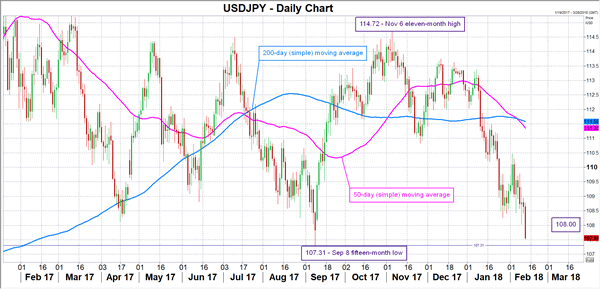 Factors that have the capacity to affect Japan's economic outlook are market fluctuations that could for example lead to a notably stronger yen and render exports relatively less attractive, a considerable deceleration in the Chinese economy, and tensions or an outright confrontation with North Korea. It should be mentioned however that the risk of conflict with North Korea has significantly eased lately (it was considered extremely low even before), with North and South Korea displaying a level unity not experienced in years as the 2018 Winter Olympics are taking place in PyeongChang, South Korea – though the two are still separated by significant differences. It remains to be seen whether positive momentum will be maintained and extended in bilateral relations between North Korea and other countries, such as Japan.
The next big release out of Japan will be December's machinery orders, scheduled for release on Wednesday at 2350 GMT. Those are seen falling on a monthly basis, though analysts anticipate the fall to be temporary in nature.