Non-farm payroll (NFP)
U.S payrolls rose a seasonally adjusted +313k last month, while the unemployment rate held steady atop of its five month consecutive low of +4.1%.
Note: Market expectations were looking for a +205k headline print and a +4% unemployment rate.
Digging deeper, construction firms' added +61k, the biggest increase in nearly 11 years for the sector. Hiring also picked up at retailers, manufacturers and local governments, including schools.
The share of Americans participating in the labor force rose by +0.3% to +63.0% m/m.
Revised figures show employers added +239k jobs in January and +175k in December, a net upward revision of +54k.
A tad disappointing were wages – average hourly earnings increased +4c to $26.75. Wages rose +2.6% from a year earlier in February. The annual wage gain in January was revised down to +2.8% increase.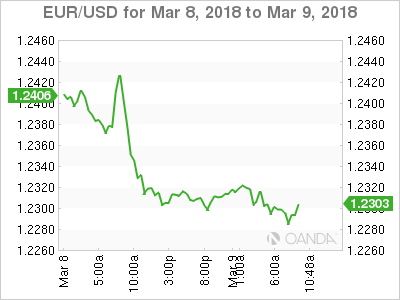 Canada Jobs
Canada added a net +15.4k jobs in February on a seasonally adjusted basis, following a net loss of -88k in January. Market expectations were looking for a net gain of +21k. The unemployment rate fell to +5.8% m/m from January's +5.9%.
Average hourly wages also advanced at a +3% y/y for the second consecutive month.
The loonie is off its highs but still up +0.22% at C$1.2866.