The EUR/USD made a bearish pullback after the strong bullish rally earlier this week. What is the next wave pattern for this largest currency pair?
The EUR/USD correction is complex and choppy and could unfold in numerous ways. For the moment, a larger WXY (pink) correction seems the most likely scenario. The recent bottom could have completed a wave X (pink).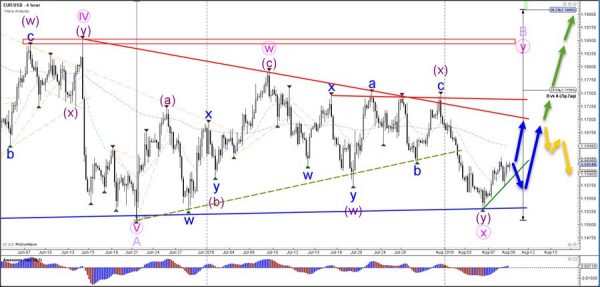 The EUR/USD seems to have completed 5 bullish waves (blue) within a larger wave A (purple). The 5-wave pattern could indicate a larger bullish ABC zigzag (purple). A bearish break below the support trend line (green) could indicate an expanded ABC correction within wave B (purple) whereas a bullish breakout above the resistance trend line could indicate a wave C (purple). The invalidation level of the ABC (purple) zigzag is if price breaks below the bottom of wave A at 1.1530.