DAX may move lower
FTSE 100 boring as hell
IBEX below its important SMA
STOX50 bearish pattern complete
German Dax: Uptrend is broken, price may continue its downward move
German DAX could not maintain its upward move and it has broken its upward trend line. This is shown on the chart by the blue arrow. Moreover, the price is trading below the 100 and 200-day smooth moving average which confirms that the bears are in control of the price.
In terms of patterns, we have broken out of the upward channel and it is likely that the price may test the lower line of this upward channel.
The near-term support is at 11699 which was the low back in April 2018 and the resistance is at 13,207 which is the highest point the price reached back in June 2018.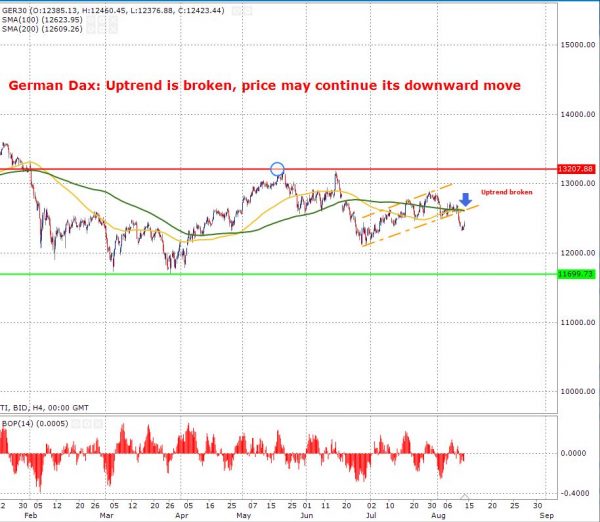 UK100- No clear sign, price is in consolidation phase
The FTSE 100 has the most boring price action. There is simply nothing exciting about this but having said this, the range base trading make it easier for the traders who do not like higher volatility. The price is trading in a range, the high of 7793 and the low is at 7484. The 100-day moving average has crossed the 200-day moving average from below which shows that the bulls have some strength and we may test the high of the rectangle which is shown on the chart. The RSI is also confirming bullish momentum.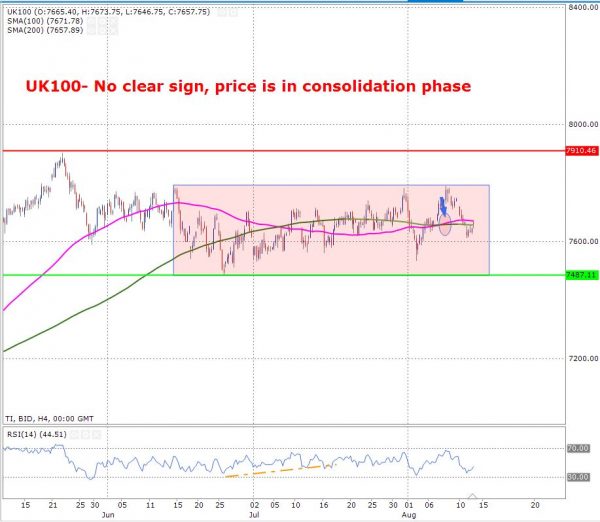 IBEX – price trades below the 50 and 100 day SMA
The IBEX has broken out of the ascending triangle pattern and it bounced back up from its support level. The support is at 9432 which is the low formed on the 2nd of July. The balance of power indicator, it shows who is in control of the price, confirms that the bears are losing their control. Looking at the intraday price action, the four chart confirms that the bulls are struggling as the recent candle is showing more bearish sign. If we break below the previous low of the 9471, it is likely that the bears will take over once again.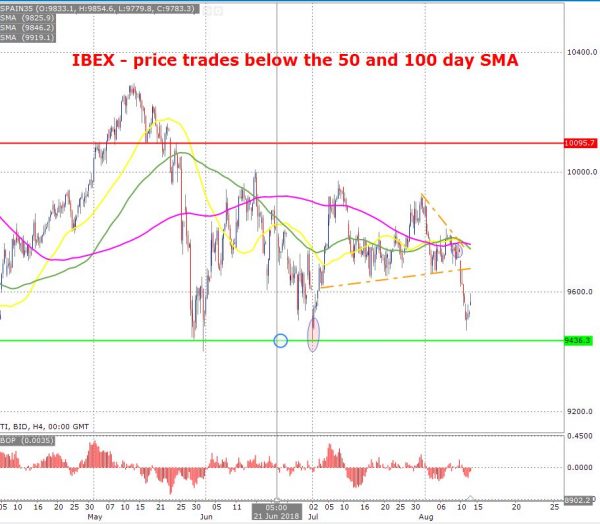 STOXX 50- Bearish patten complete
The Eurotox 50 has bounced back up from its previous support zone ( 3394-3407). This support zone fits well with the previous support zone which was formed on the 4th of July. This is where the bull rally started for the index. However, the price needs to break above the 100 and 200-day moving averages for it to move higher otherwise, the bias remain is to the downside.