On your MT4 platform's market watch, scroll through the CFDs tab and add the US Dollar Index to your watch list.
Even if you're not one to trade directly off the volatile index, it's definitely worth having major levels marked if you're trading any of the majors.
Let's take a look at the daily chart below:
USDX Daily: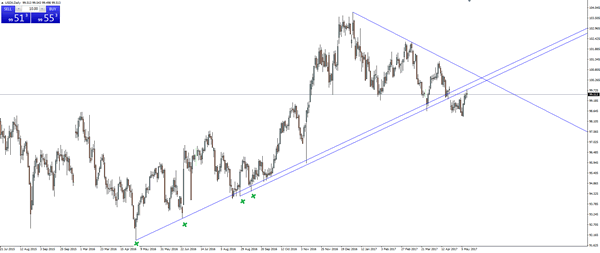 While in an overall bullish trend, price has spent 2017 moving in the opposite direction. Price has pulled back and gapped down through the higher time frame bullish trend line, but now has been creeping back up the underside of it.
It's actually quite common to see a chart break out of a higher time frame trend line, only to creep back in the direction of the original trend. Look for price to tuck back above the broken trend line and possibly reactivate it as support once again