Bears dominate on the oil market since April. I'd like to remind that earlier recommended selling oil to USD 50.00 and it has hit that mark. Futures for #CL have decreased by more that 16%. WTI has fount its support at 44.25 USD.
There was an abrupt turn of the quotes yesterday. Oil grew by more than 3% thanks to the support of the EIA. The US oil inventories have fallen by 5.247 million barrels during the previous week. Note, that the expectations were at the 1.786 million barrels mark. This decrease took place because of bad weather in the Gulf of Mexico.
Conclusions of the EIA Report:
oil reserves: -5.247 million barrels;
oil production: + 21 thousand barrels per day (=9.314 million)
distillates stocks: -1.587 million barrels;
gasoline stocks: -0.150 million barrels;
Everybody is waiting for the OPEC meeting at the moment to know about the outcome of the discussion of the production reduction. It will be help on May 25.
Trading recommendations:
Support levels: 47.00 USD, 44.25 USD
Resistance levels: 49.25 USD, 51.85 USD, 53.50 USD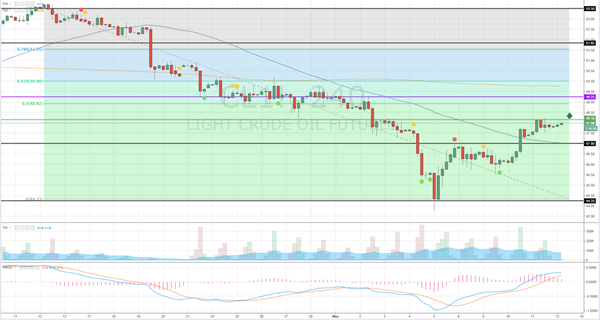 Bulls dominate on the market now. The technical pattern shows a possibility of a correction. Here are the signals that indicate it:
1) the MACD indicator has reached the positive zone. It Is still rising now.
2) Bullish Engulfing, a strong reversal PA pattern, has emerged on the daily chart.
I'd recommend you buying oil after the price reaches the 48.15 USD local resistance level. 49.25 USD may be a goal for taking profit. I think that #CL may go to 50.00 and 51.50 USD marks in the medium term. These marks are the 61.8% and 78.6% correction levels. Use a trailing stop while working with this position.