Draghi was more optimistic than anticipated during the Jackson Hole Meeting
Brexit negotiations moves towards a third round
The euro is showing bullish momentum and it is extending its bullish move to a 2-1/2 year high. The number which everyone is looking at is 1.20 although the resistance is at 1.2040. Thanks to the president of the European central bank who instigated this rally with his comments at the Jackson Hole meeting last week. The general perception among traders was that the president will talk down the currency.
However, his optimism about the economic growth in the Eurozone and the recovery has sparked the rally in the euro. We do think that the path of the least resistance for the EUR/USD remain skewed to the upside. Going forward, the focus would be towards the most important upcoming- the ECB meeting in September. Investors are expecting that the ECB will announce the process of tapering during this event and that has the ability to push the euro even higher.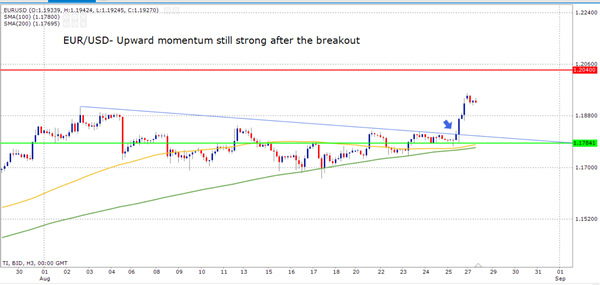 The sterling is strong against the dollar not because of its own strength but because of the weakness in the dollar. The negotiation process around Brexit talks is reaching to a third round between the UK and the EU's leaders. The discussions are not yielding any favourable results and despite the fact, whatever the leaders of both sides may say, but the actual results do not show any sign of flexibility and imagination. There is no resolution in sight around the issue of Northern Ireland's citizen's right and for the exit bill. Labour party has also made a dramatic move and they would like to keep Britain in the EU single market during the transition period and this is more likely to push the entire process towards the softer Brexit.