The NZD has been on a torrid run against its US counterpart so far this month, falling more than 4% in a little over a week before finding some stability around December's lows.
Since then the pair has run into resistance around 0.6950, an area than had been key support between June and November last year before retesting the lows again.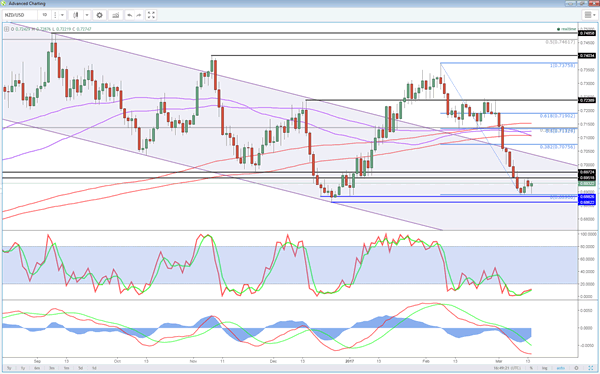 Once again, the pair found support just below 0.69, potentially suggesting that the strongly bearish sentiment has subsided, allowing for a possible correction in the near term.
With the pair having found a clear floor for now, the test becomes whether it will break above 0.6950 – the double bottom neckline – or through what has become a pretty sturdy support first, just below 0.69.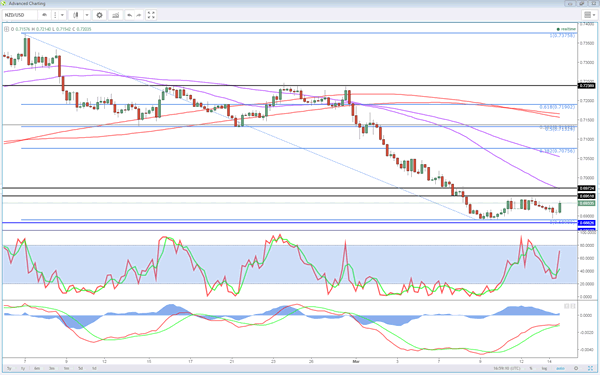 A break above 0.6950 would suggest we're heading for a correction in the near term rather than a resumption of the aggressive downtrend. While it doesn't tell us how big the correction will be, it would suggest we may at least see a move back towards 0.70. One of the benefits of double bottom setups is that they give us possible price projection levels, based on the size of the double bottom (0.69-0.6950) projected above the neckline.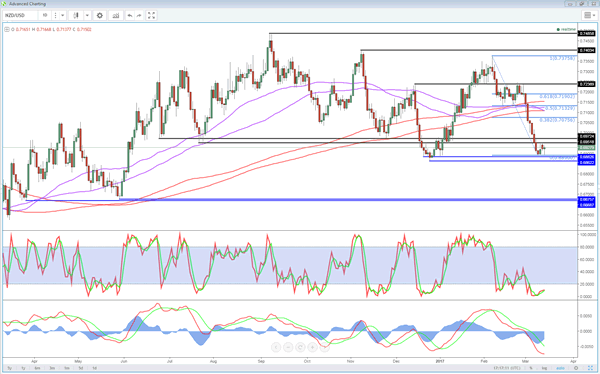 A break through 0.70 could signal a broader correction, at which point the Fibonacci retracement levels – 7 February highs to 9 March lows – stand out for me, with 38.2% falling around 0.7075, 50% falling around 0.7132 and 61.8% around 0.7190.
A break through the lows of the last week would suggest the sellers are back on board, although one important test remains around 0.6862 – 23 December low – with the next major support below here arguably coming around 0.6675.