There are rumors from influential sources pointing at Kazuo Ueda as the next governor of the Bank of Japan (BOJ). This decision could lead to the commencement of policies in favor of raising interest rates and monetary policy tightening. Seeing how his appointment is coming after the Yen has lost ground against the Dollar and other top economies, it is only natural to expect a yen recovery. However, let's check the technical factors for confirmation of this prediction to see if the stars align.
USDJPY
The horizontal arrow marks the previous low that was recently broken. At the same time, the rectangle highlights the order block (supply zone) responsible for the breakout. The 100 and 200-day moving averages align with the supply zone, increasing the chance for a bearish reaction from that area. The 88% of the Fibonacci retracement tool can be considered an added confluence in favor of the bearish move.
Analysts' Expectations:
Direction: Bearish
Target: 131.5
Invalidation: 138.2
EURJPY
The two trendlines slightly inching towards each other have formed a wedge pattern on the daily timeframe of the EURJPY chart. Based on the fact that the most recent break of the structure was bearish, the supply zone responsible has been highlighted. It is also worthy of note that the supply zone falls within 76% of the Fibonacci retracement zone and aligns with a trendline resistance. These factors lead to a convincing bearish sentiment.
Analysts' Expectations:
Direction: Bearish
Target: 141.5
Invalidation: 146.5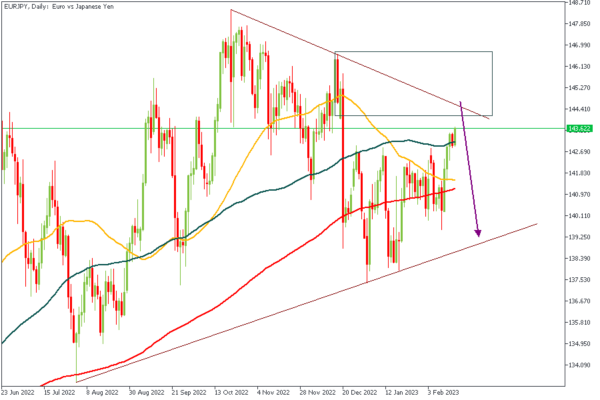 CADJPY
CADJPY is poised for a bearish rejection a short while from now. The clause here is that price has presented us with two possible supply areas. The first supply zone aligns with the trendline resistance, while the other has the 100 and 200-day moving averages as confluences for the supply zone. While either scenario can play out, I'd rather err on the side of caution by choosing the second supply zone since it has a slightly better chance.
Analysts' Expectations:
Direction: Bearish
Target: 103.56
Invalidation: 97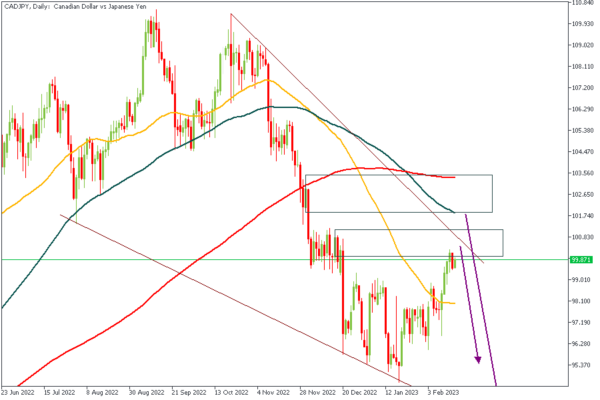 CHFJPY
CHFJPY has the cleanest setup in this article. Here we see the descending channel with confluences from the 100-day moving average, trendline resistance, supply zone, and the 76% Fibonacci retracement level. The sentiment here is bearish.
Analysts' Expectations:
Direction: Bearish
Target: 139.5
Invalidation: 148
The trading of CFDs comes at a risk. Thus, to succeed, you have to manage risks properly. To avoid costly mistakes while you look to trade these opportunities, be sure to do your due diligence and manage your risk appropriately.