The EURUSD currency pair seems to be forming a large corrective wave within the global impulse trend. Cycle correction IV, most likely, takes the form of a primary double zigzag Ⓦ-Ⓧ-Ⓨ.
The first actionary leg Ⓦ is completed in the form of a simple zigzag (A)-(B)-(C). A bearish intervening wave Ⓧ may be in the development stage now. It is also similar to the standard zigzag (A)-(B)-(C), which requires the last impulse sub-wave (C) to complete.
It is assumed that the price, along with impulse (C) going down, may fall to the 1.007 mark. At that level, impulse (C) will be at 123.6% of first impulse (A).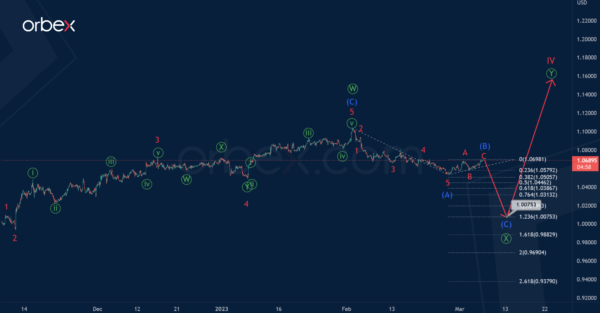 An alternative scenario suggests that the primary intervening wave Ⓧ will be short and perhaps it is already fully completed in the form of a zigzag (A)-(B)-(C).
Thus, the last upward movement of the price may indicate that the development of a new actionary wave Ⓨ has begun. Like the primary sub-waves Ⓦ and Ⓧ, the wave Ⓨ can take a zigzag shape (A)-(B)-(C), as shown in the chart.
There is a high probability that the first intermediate wave (A) will end near the February maximum, that is, at 1.149.