The USDJPY pair, as in the previous review, which was a few weeks ago, continues to form a bearish trend. The trend takes the form of a triple zigzag, in which the sub-waves are completed.
The wave is a double zigzag consisting of intermediate sub-waves (W)-(X)-(Y).
If this scenario is confirmed, a fall in the wave will begin in the near future towards the 122.98 area. At that level, primary wave will be at 76.4% of actionary wave.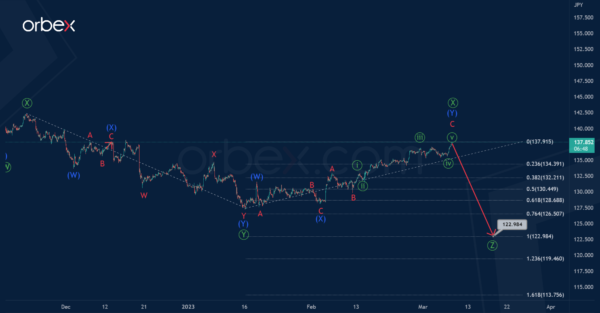 In the second variant, a bearish double zigzag of the primary degree is under construction, in which only the first actionary wave is completed. Wave is currently under development.
The intervening wave can take the form of a triple zigzag (W)-(X)-(Y)-(X)-(Z), as shown in the chart. It is possible that in the near future the growth will continue in the direction of the price mark of 142.42.
At that level, wave will be at 61.8% along the Fibonacci lines of wave.