The NZDUSD currency pair may form a correction zigzag pattern Ⓐ-Ⓑ-Ⓒ in the long term.
The first impulse wave Ⓐ is completed. A bearish correction Ⓑ is under development, the internal structure of which is similar to a zigzag (A)-(B)-(C). The impulse (A) and correction (B) can be considered successfully completed.
In the near future, the price may drop in the intermediate impulse (C) to 0.575. At that level, primary correction will be at 76.4% of actionary wave Ⓐ.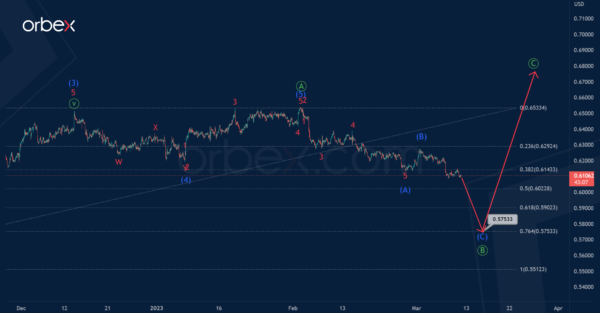 However, the primary wave Ⓐ may continue its development, and end slightly higher than in the main version. It is an intermediate impulse (1)-(2)-(3)-(4)-(5).
It seems that the correction wave (4) has come to an end, it has an internal structure of a double zigzag.
If this scenario is confirmed, market participants will see bullish growth in the intermediate wave (5), approximately to 0.682. At that level, wave (5) will be at 76.4% of impulse (3).