The EUR remains at a low level, with the most traded currency pair in the market staying near 1.0730 on Monday.
Investors continue to focus on the issue of raising the US public debt limit. There are discussions underway between Congress and the White House regarding a framework agreement on increasing the debt ceiling.
It is expected that Republicans will agree to raise the borrowing limits by 4 trillion USD over two years if the Democrats allow for restrictions on non-defense spending in 2024.
As it is a public holiday in the US on Monday, official news is anticipated in the coming days. This week, the country will release important statistics, including labor market indicators for May.
Technical analysis:
On the H4 timeframe, EUR/USD has completed a downward wave, reaching 1.0701. Currently, the market is correcting towards 1.0760. After the correction, a decline to 1.0730 can be expected. It is possible for a consolidation range to form around 1.0730. If the price breaks out of the range upwards, the correction might continue towards 1.0804, which is the initial target. This scenario is technically supported by the MACD, as its signal line is currently at lows below zero and preparing to rise towards the zero mark.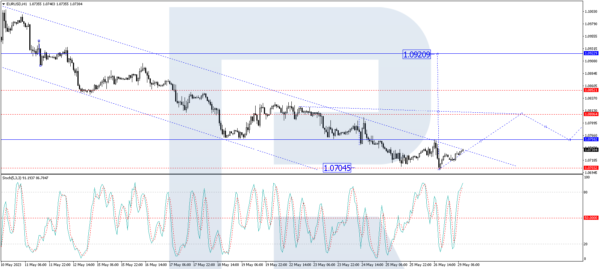 On the H1 timeframe, EUR/USD experienced a downward wave, reaching 1.0701. The market has made an upward impulse towards 1.0730 and is currently forming a consolidation range around this level. A potential upward structure might develop towards 1.0744, which is a local target. Once the price reaches this level, a decline to 1.0730 followed by a rise to 1.0760 is expected. The Stochastic oscillator confirms this scenario, as its signal line is near 80. A decline to 50 could occur today, after which a rise towards 80 may follow.