The commodity market is currently being impacted by various factors, causing Brent crude oil prices to decline. Currently, the price of a barrel of Brent is hovering around $72.35, reflecting a loss of approximately 4% within a 24-hour period.
Bearish sentiment in the oil market has been bolstered by Goldman Sachs' updated price forecast. The investment bank now estimates that the average price per barrel will drop to $86.00, down from the previous forecast of $95.00 at the end of last year. Similarly, the outlook for WTI has worsened, with expectations declining from $89.00 to $81.00 per barrel.
Goldman Sachs analysts had previously held a more optimistic view on oil prices.
Furthermore, the pressure on commodity prices is being exerted by market anticipation of interest rate decisions by the Federal Reserve (Fed) and the European Central Bank (ECB). Both central banks are scheduled to hold their meetings later this week, on Wednesday and Thursday respectively.
Technical Analysis
On the H4 timeframe, Brent crude oil is currently forming a wide consolidation range, centered around 74.55. However, the market has extended this range downwards to 71.55, indicating a potential for further correction. Today, we expect to see a potential upward movement towards 74.55, which will be tested from below. Following this, a downward trend towards 71.10 and subsequent upward movement towards 78.50 cannot be ruled out. This is the initial target. Technically, this scenario is supported by the MACD indicator, as its signal line is currently below zero and preparing to exit the histogram area, suggesting potential price growth.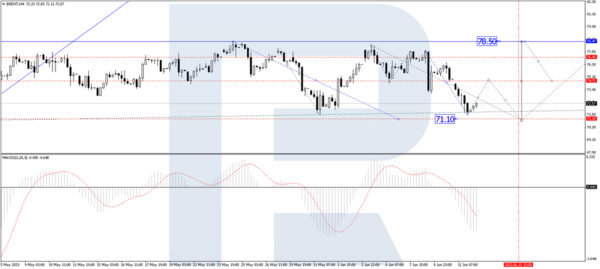 On the H1 timeframe, Brent crude oil is currently following an upward wave structure towards 73.10. Once the price reaches this level, a downward correction towards 72.30 may occur. Subsequently, if the price reaches the 72.30 level, a further rise towards 74.55 is anticipated. Technically, this scenario is confirmed by the Stochastic oscillator, as its signal line continues to decline towards 50. Once it reaches this level, an upward movement towards 80 is expected to begin.