On Tuesday, the price of bitcoin rose sharply from around USD 26,000 to USD 28,000 per coin. This was due to a ruling by the US District of Columbia Court of Appeals that said the Securities and Exchange Commission (SEC) was wrong to reject Grayscale's application to convert its Bitcoin Trust (GBTC) into a BTC Spot Exchange-traded Fund (ETF). A spot ETF would allow investors to access the leading cryptocurrency without actually holding BTC.
The SEC has repeatedly rejected Bitcoin spot ETF applications in the past, citing market manipulation concerns. But the court said the SEC failed to adequately explain its refusal to grant Grayscale's ETF bid, to the delight of the cryptocurrency community.
However, already on Wednesday, the rate rolled back to 27,200. Why do the bears' positions remain strong? From the point of view of technical analysis of the BTC/USD chart:
→ the bullish trend line (shown in blue) has been confidently broken;
→ the price of bitcoin remains below the level of its breakdown in the 29k region, which can provide serious resistance;
→ the price of bitcoin just broke through the 28k level, indicating that the bears are in control of this round level;
→ the descending channel (shown in red) can be a roadmap for the price of bitcoin in the coming months, and its upper limit is an obstacle for the bulls.
By the way, the SEC has 45 days to appeal the judge's decision. It is possible that the filing of an appeal by the SEC will offset the positive news from Tuesday.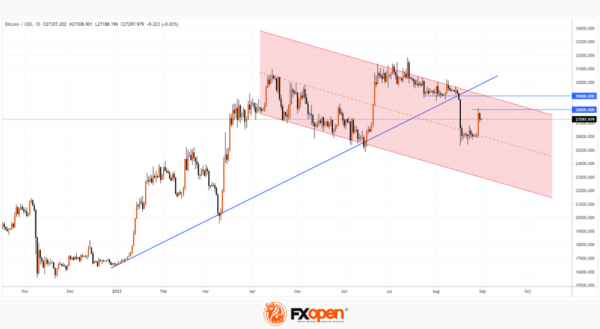 This article represents the opinion of the Companies operating under the FXOpen brand only. It is not to be construed as an offer, solicitation, or recommendation with respect to products and services provided by the Companies operating under the FXOpen brand, nor is it to be considered financial advice.