The EUR/USD bearish momentum is approaching a key support zone. A bullish bounce would confirm the wave 4 (pink) correction whereas a bearish break below the 50% Fibonacci level would make a downtrend more likely. The wave 4 (pink) is the most likely pattern at the moment but price needs to confirm this pattern by making a bullish reversal at the support zone (green lines).
The EUR/USD bearish channel could be completing 5 bearish waves soon due to the proximity of the support zone. A bear flag pattern could still be part of a wave 4 (orange) and one more lower low is possible within the bearish correction. As long as price stays above the 1.21-1.22 support zone, price is vulnerable for a bullish reversal.
The GBP/USD bearish momentum is in a strong downtrend channel, which broke below the 1.40 support level. Price could however be close to completing 5 bearish waves within wave 1 or A (orange).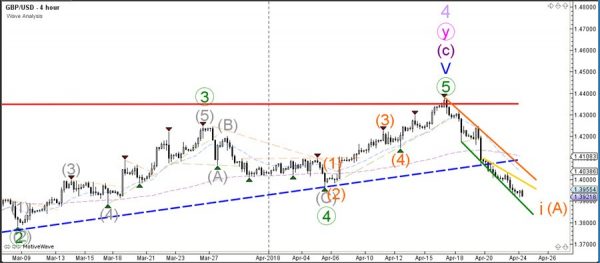 The GBP/USD could extend its bearish momentum towards the Fibonacci targets. Eventually a bullish retracement could occur and price will make a larger bullish correction. For the moment, the bearish pressure will probably take price down for a new lower low.