Nothing, Zilch, Nada. That's just the reality of where markets are at in 2017.
We spoke about 'life going on' after the Paris terror attacks and as much as the human being inside you wants to feel something when there is an attack or a major global superpower intervenes in a civil war, to markets it really just doesn't matter anymore.
The world has changed and whether we like it or not, human beings (and as a result, markets), are completely desensitised.
After the US launched missiles toward key government targets in retaliation for chemical weapons attacks on their own people, markets reacted in a way I haven't seen for a long time. They actually took notice! Risk currencies tanked and commodities such as Gold rocketed.
But being 2017 and as we keep saying on this blog, markets just don't care anymore:
XAU/USD 15 Minute: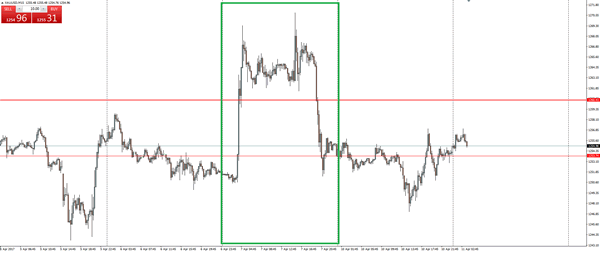 As you can see on the 15 minute chart with daily period separators turned on for clarity, the so called 'rocket move' was completely retraced before the end of the session. That's a rocket? Not a chance.
Heck, look at it now we're into the following week and Gold is actually lower than where it started! It shouldn't shock me because we've seen it happen enough, but it still does. Being a human being rather than a robotic trader is a hard trait to shake.
All this shows is the only thing that matter are your levels.
Take a look at the following daily chart:
XAU/USD Daily:
As you can see, Gold is still holding the resistance level that we have been following on the blog.
So long as that higher time frame resistance level continues to hold, the play is to sell short term pullbacks. Something we'll continue to look for here and on the @VantageFX Twitter account.
Mark your levels, trade your levels. It really is all that matters.