Personal Forex coaching is about to be changed! Get this personal coaching guide homestudy video program and let Vic Noble be your personal coach.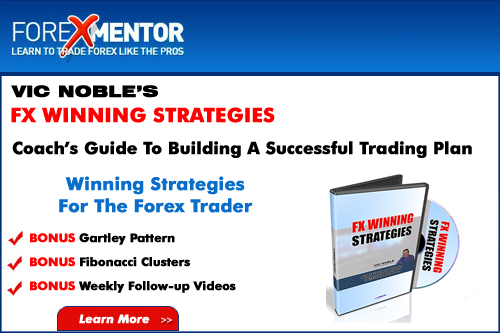 Since 2005, through his personal one-on-one coaching at Forexmentor.com, our resident Forex coach Vic Noble has single-handedly turned helped thousands of struggling Forex traders to turn around their trading by addressing common trading mistakes.
In his role at Forexmentor.com, Vic deals with trading challenges on a daily basis with his clients. We receive consistent comments that Vic has an uncanny ability to remove much of the confusion and guesswork that surround the trading decision making process.
Often times, all it takes is one small adjustment or a different way of approaching trading opportunities. These minor but significant changes can make all the difference between winning and losing. For more advanced traders, Vic addresses the common challenge of "information overload " which often paralyze even the most experienced traders.
We had numerous requests to have Vic encapsulates his coaching service in a self-study program which allows traders to review and learn these winning strategies any time any where. After many months of development, Vic and the Forexmentor team are pleased to announce the immediate availability of Vic' Coaching Guide Training Program.
With the course, you can now benefit from 100's hours of personal coaching from Vic and learn these techniques at your own pace.
Here's what you will get with your personal coaching video program:
Exactly what to look for when you sit down at the computer
Where and when to enter a trade
Where to place stops (and when to move them)
Where and when to exit a trade (with profit or loss)
Money management made simple
How to manage a trade properly
How to use MACD objectively and effectively
Integrating fibonacci information very effectively and simply with the core concepts of the Forexmentor trading system
Market Flow—how to determine trend direction without using any technical indicators!! You'll love this one!