Germany PMI manufacturing dropped to 53.7 in September, down from 55.9 and missed expectation of 55.8. That's also lowest in 25 months PMI services rose to 56.5, up from 55.0 and beat expectation of 55.1. PMI composite dropped to 55.3, down from 55.6 and hit 2-month low.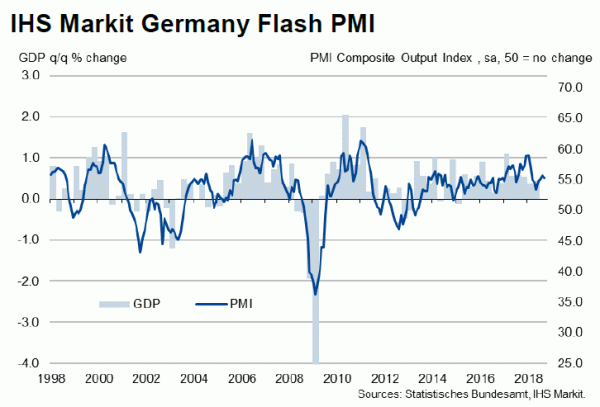 Commenting on the flash PMI data, Phil Smith, Principal Economist at IHS Markit said:
"The service sector was left to do most of the heavy lifting in September, as manufacturing put in its worst overall performance since August 2016. Service providers enjoyed the biggest boost to new business in over seven years in a further sign of strong domestic demand. Manufacturing new orders, however, were broadly flat as export sales declined for the first time in more than three years.
"Manufacturers' confidence took a big hit in September, deteriorating to its lowest for almost four years. Goods producers foresee output barely rising over the next 12 months and have cited growing uncertainty towards the outlook.
"The September flash data meanwhile showed another solid gain in private sector employment, the one area where manufacturing and services both made strong positive contributions during the month. Falling backlogs of work in the manufacturing sector suggests that capacity may have finally caught up with demand, so there's a good chance the pace of factory job creation will lose momentum in coming months."