Eurozone PMI manufacturing dropped to 53.3 in September, down from 54.4 and missed expectation of 54.5. That's also the lowest reading in 28 months. PMI services rose to 54.7, up from 54.5 and beat expectation of 54.5. PMI composite dropped to 54.2, down from 54.5.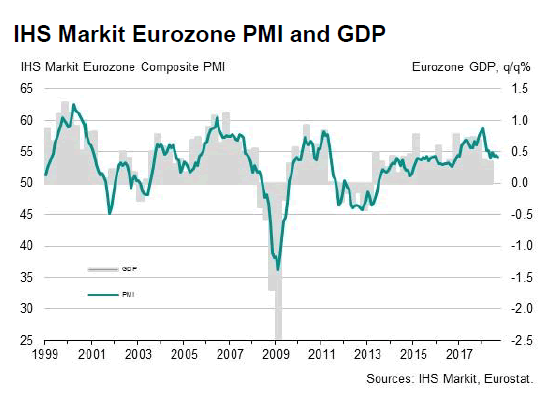 Commenting on the flash PMI data, Chris Williamson, Chief Business Economist at IHS Markit said:
"A near stagnation of exports contributed to one of the worst months for the Eurozone economy for almost two years. Trade wars, Brexit, waning global demand (notably in the auto industry), growing risk aversion, destocking and rising political uncertainty both within the Eurozone and further afield all fuelled the slowdown in business activity.
"Thankfully, the slowdown was limited to manufacturing. A buoyant service sector, boosted in part by domestic demand being supported by strong job gains, means the survey data are running at a level indicative of the economy growing by a solid 0.5% in the third quarter.
"However, with new orders and backlogs of work rising at much reduced rates compared to earlier in the year, export growth evaporating and future expectations remaining close to two-year lows, the risks to future growth appear tilted to the downside."