BOJ offered to buy 190B yen of JGBs with maturity of 10- 25 years, down 10B yen from the purchase made on December 28. It also reduced the purchase of JGBs with maturity of 25- 40 by the same amount to 90B yen. The move has heightened speculations that the central bank is preparing to trim its stimulus measures. The market reactions match with the speculations with USDJPY slipping -0.42% while EURJPY down -0.65% on Tuesday. Japanese longer- dated 20- and 40-year bond yields rose to their highest in a month. Longer- term US Treasuries were also affected by BOJ's move with 10-year yields gaining +6 points to 2.546%. Of course, the movement of US Treasuries was also affected by the auctions this year.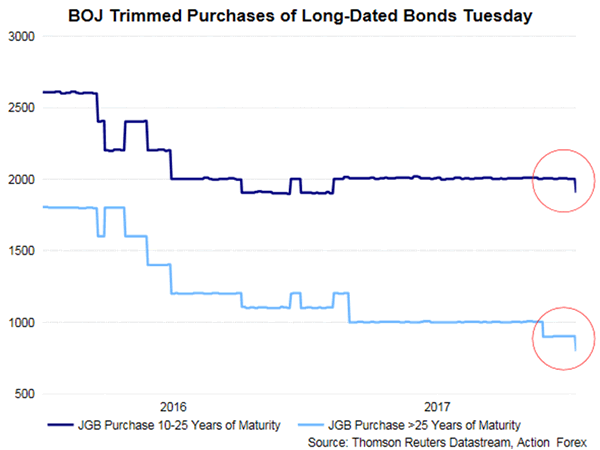 We do not view this as an abrupt shift from BOJ's monetary stance. In December, the central bank, while turning more upbeat on the recovery outlook, kept the targets for short- and long-term interest rates unchanged at -0.1% and around 0%, respectively, and the guideline for JGB purchases at an annual pace of about 80 trillion yen. We have mentioned in our October report (https://www.actionforex.com/action-insight/central-bank-views/53808-boj-left-stimulus-unchanged-downgraded-inflation-forecasts) that BOJ's monetary base has been shrinking with the monthly JGBs purchase steadily falling since February 2017. The annual increase in JGB buying has fallen to 50-ishh trillion yen in December last year, from about 79 trillion yen in the same period in 2016. This suggests that BOJ has gradually been moving away from targeting monetary base growth, to yield curve control (since its introduction in September 2016), as the key policy instrument.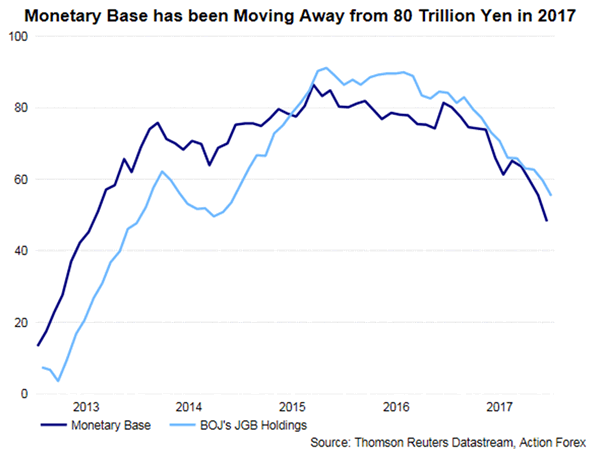 Over the past year, most of the reduction in purchases was JGBs with 1-10 year maturity, compared with the long-dated ones on Tuesday. We believe the aim of BOJ is on a steepening of the back end of its yield curve so as to provide support for banks and real money investors. A steeper yield curve would help raise profitability of financial institutions, allowing them to ease lending standards and take risks on their balance sheets. With CPI staying far below the +2% target, it still remains a long way for the BOJ to begin considering policy normalization.