RBA left the cash rate unchanged at 1.5% in April, continuing to struggle between soaring property prices and subdued inflation. Policymakers appeared more optimistic over the global economic outlook than the domestic one. The central bank remained concerned over the rising property prices and warned of the situation that household borrowing growth was outpacing growth in income. We expect RBA to leave its monetary stance unchanged throughout the year.
Economy to show moderate growth
The central bank noted domestic economy continued to show 'moderate growth' in the 'transition following the end of the mining investment boom'. Policymakers acknowledged rising non-mining business investment over the past year and pickup in business confidence. Meanwhile, they also acknowledged some deterioration in the employment market, noting the rise in unemployment rate, modest growth in payrolls as slow wage growth. RBA continued to warn of low inflation.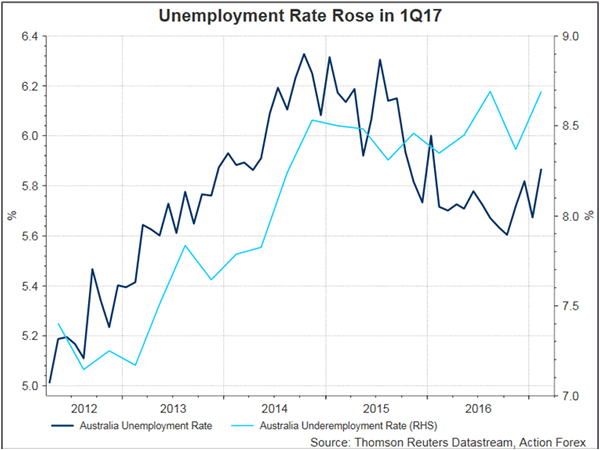 Inflation remains quite low
As noted in the statement, inflation 'remains quite low'. While the headline reading should 'pick up over the course of 2017 to be above 2%, underlying inflation would rise more gradually with 'growth in labour costs remaining subdued'. Recall that the country's unemployment rate rose to 5.9%, the highest in 13 months, in February, up from 5.7% a month ago. The number of payrolls slipped -0.1K, the first drop in 5 months, while the number of unemployed increased +26K. Headline CPI moderated to +0.5% q/q in 4Q16, from +0.7% in the prior quarter. Core inflation steadied at +0.4% q/q for the quarter.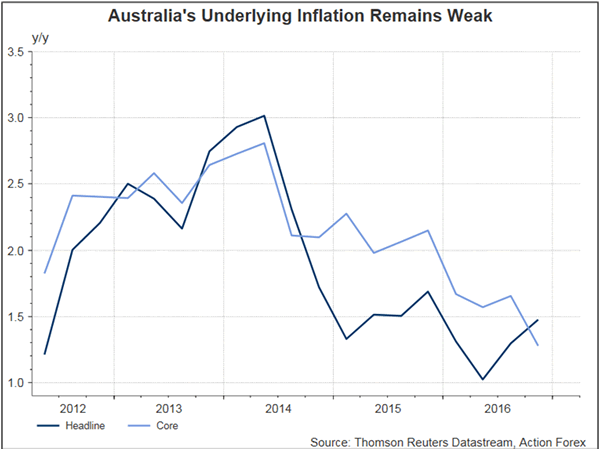 RBA concerned on house prices
The persistently-high housing prices remained a concern. As suggested in the statement, 'conditions in the housing market continue to vary considerably around the country'. While 'conditions are strong and prices are rising briskly' in some markets, prices are 'declining' in others. It also addressed the situation in the eastern capital cities, noting that 'a considerable additional supply of apartments is scheduled to come on stream over the next couple of years. Growth in rents is the slowest for two decades'. Yet, the above message was only a repeat of previous meeting statements.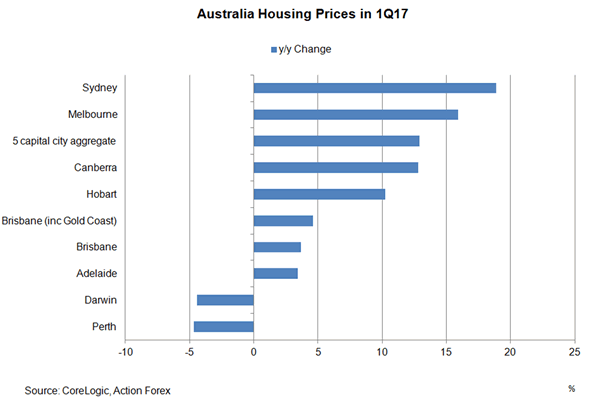 Household borrowing outpaced income growth
What's new was the warning that household borrowing growth was outpacing growth in income. Policymakers judged that 'the recently announced supervisory measures should help address the risks associated with high and rising levels of indebtedness'. They added that 'lenders need to ensure that the serviceability metrics that they use are appropriate for current conditions. A reduced reliance on interest-only housing loans in the Australian market would also be a positive development'.