The report from the US Energy Information Administration (EIA) shows that total crude oil and petroleum products (ex. SPR) stocks declined 12.64 mmb to 1221.85 mmb in the week ended March 15. Crude oil inventory plunged -9.59 mmb to 439.48 mmb (consensus: +0.31 mmb). Inventories declined in 2 out of 5 PADDs with PADD 3 (Gulf Coast) seen remarkable -8.62 mmb withdrawal. Meanwhile, Cushing stock dropped -0.47 mmb to 46.38 mmb. Utilization rate gained +1.3% to 88.9% while crude production climbed +0.1 mmb higher to 12.1M bpd for the week. Crude oil imports increased +0.19M bpd to 6.93M bpd in the prior week. The front-month WTI crude oil contract extended recent gains to the highest level since November 12, 2018.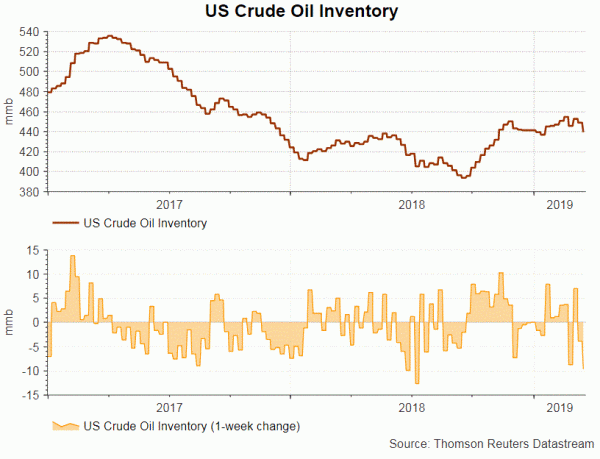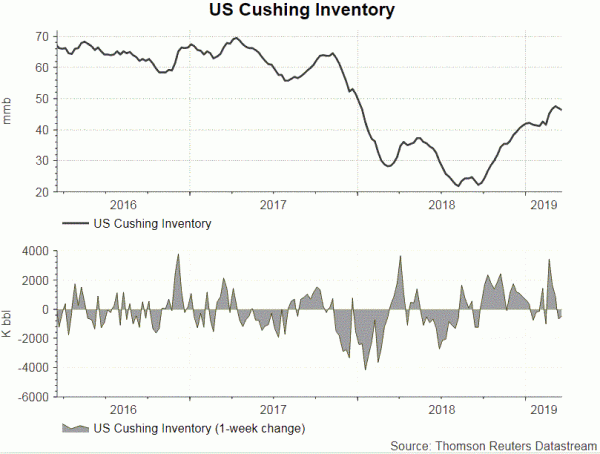 Concerning refined oil product inventories, gasoline inventory declined -4.59 mmb to 241.5 mmb as demand added +2.94% to 9.41M bpd. The market had anticipated a -2.41 mmb drop in stockpile. Production slid -1.27% to 9.93 bpd while imports soared +38.39% to 0.79M bpd during the week. Distillate inventory fell -4.13 mmb to 132.24 mmb. Demand rose +19.05% to 4.71M bpd. The market had anticipated a -1.09 mmb decline in inventory. Imports slumped -57.14% to 0.1M bpd while production added +1.38% to 4.92M bpd during the week.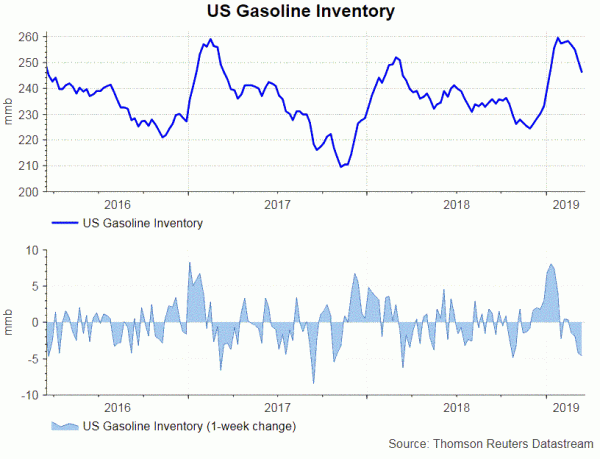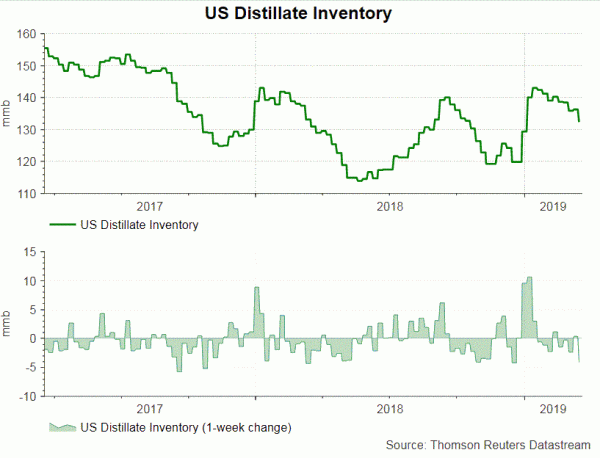 Released after market close on Wednesday, the industry- sponsored API estimated that crude oil inventory declined -2.13 mmb during the week. For refined oil products, gasoline stockpile drew -2.79 mmb while distillate decreased -1.61 mmb.