Key Points:
Crude Oil fails to break through recent high.
RSI Oscillator retreating from overbought levels.
Downside targets likely to fall around the 10EMA at $52.10 and 50EMA at $51.20.
Crude Oil prices have been trending strongly higher through most of April as the commodity was buoyed by the ongoing OPEC production cuts, as well as plenty of geo-political risk. Subsequently, we have seen the West Texas Intermediate (WTI) prices leap to around the $53.74 before slipping lower to trade around its present level at $52.61/barrel. However, despite its overall bullishness, the recent pullback could just be a key reversal point for the commodity.
In particular, Wednesday's failure to rally has been seen by many as a negative signal with price action now languishing near the recent lows. Also, the breach of the $53.00 handle has left the commodity exposed to a retracement back towards the 23.6% Fibonacci level at $52.10. This should be regarded as the abject minimum level that price action will retreat to. In extension, we are likely to see further downside action with targeted levels around the 38.2% Fibonacci level at $51.20. This key level also forms around the 50EMA which is a highly important technical factor for crude oil. Additionally, the RSI Oscillator, is also trending lower away from overbought levels, suggesting that there is plenty of room to move on the downside.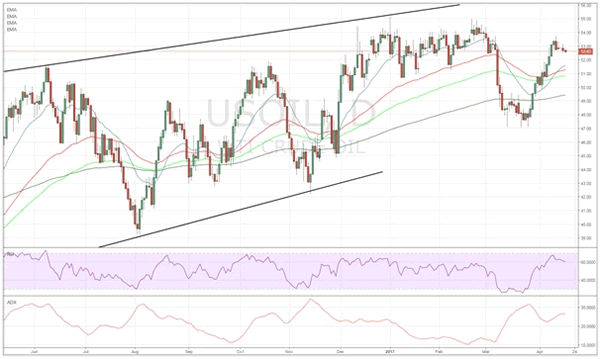 Subsequently, there are plenty of technical reasons to suggest that the highly traded commodity will continue its march lower, at least to around the $51.00 handle, before it discovers some support. However, the elephant in the room is clearly OPEC with the latest ruminations seemingly suggesting that the cartel will look to extend their latest round of production cuts through their next meeting. However, an agreement is never a sure thing with most members willing, able, and incentivised to cheat on any output caps or cuts. This may especially be the case given the heightening levels of U.S. and Canadian production in response to firmer crude prices.
Ultimately, technical analysis is suggesting that the commodity is heading in only one direction and that is clearly lower. In particular, crude's inability to rally back above the recent high is a strong indication of its present malaise. Subsequently, the most likely scenario is a breakdown over the coming week and a retreat back towards the $51.00 handle in short order. However, keep a close watch on OPEC and any potential geo-political risk emanating from North Korea.