Forex Financial Currency Exchange is the largest and most far-reaching market in the world, which gives many traders a chance to start a successful business and make money with the currency trading. Currency trading, like any other activity, is surrounded by numerous misconceptions and myths. They can affect every trader, no matter how long he trades.
So, many people refuse to trade on Forex, as they believe that this financial market is prohibited in their country or around the world, as it's gambling or something like that. But it is not so!
Forex trading is allowed in all countries where individuals and legal entities are allowed to have currency (currency accounts, currency purchases at bank exchange offices, etc.) Do not forget that the Forex participants do not play any games on it. Most Forex participants use Forex for import and export operations, for international investments, for making money on changing currency prices and for other serious purposes.
Forex Market Regulation
Moreover, self-respecting Forex brokers, through which people trade on the market, should receive a special license confirming that they are regulated by higher authorities. So, the activity of any financial intermediaries, which include forex brokers and dealing centres, is subject to mandatory certification.
For example, the CySEC (Securities and Exchange Commission) Forex regulator, located in Cyprus, has the necessary minimum level to protect the client. Offshore companies use its services.
Regulators in the US:
SEC – securities;
CTFC – currency market regulation;
NFA – non-governmental futures association;
FINKA – independent regulator of financial markets;
SIPC – protection of investors.
The regulator of Switzerland is FINMA – supervision of the financial markets. The UK regulator is FCA – financial services control. In Australia, the Forex market is regulated by ASIC (Commission on Investments and Securities). Financial regulation in Belize is undertaken by the International Financial Services Commission, for instance, JustForex broker has the IFSC license.
European regulators:
ESMA – an independent regulator of the European Union;
MIFD – an EU directive to service a majority of representatives of the European market.
Forex in the USA
One of the common myths among nonprofessional traders of the Forex market is that Forex is banned in the United States of America. This is not true. In the US, Forex is not prohibited! But in the American market, the work of brokers is very tightly and carefully monitored.
In order to provide Forex trading services, the broker must obtain the appropriate license and must have a security deposit in the amount of about $20 million. Therefore, many brokerage companies from other countries, complying the requirements of US law, give warnings on their websites that their services are not intended for US citizens. It is because only a small group of regulated companies serves North American customers. But American laws do not prohibit citizens of this country to trade on the Forex market.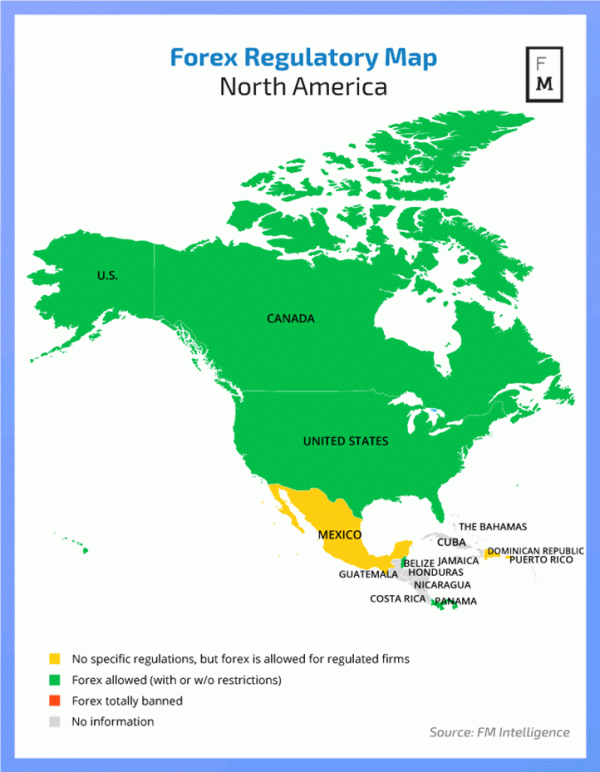 Forex and Islam
A lot of people also believe that Forex is banned in countries where Islam is practiced. However, this is not quite true.
Sharia Islamic Law, namely the law of Islam, prohibits giving or receiving interests in any form. The reason for this prohibition lies in the conviction that the adherents of Islam should give only to give, and not to get something back. Therefore, according to these beliefs, not the Forex trading itself is prohibited, but a swap.
A swap is a daily charge or withdrawal from the deposit of a trader of money for the transfer of a position on open trades over the night.
But in such a case, swap-free accounts or Islamic accounts with no swap were created. All commissions in the form of interest are absent in Islamic accounts. Thus, Sharia law is not violated, and Forex becomes accessible to all.
So, the Forex trading is not banned in the world. Moreover, every day more and more traders come here who successfully trade and earn money. If you're looking for a good broker, take a look at JustForex – international broker offering good trading conditions and reliable process of depositing and withdrawal of funds.