Tuesday April 18: Five things the markets are talking about
While many markets were closed for Easter Monday, the pace of new economic data releases picks up today, especially in the U.S.
Gains are expected for the U.S industrial production report (+0.5%e vs. +0.0%) despite last month's poor weather having pulled down factory hours. Housing starts and permits have been good of late, but the March outlook is to be mixed with a dip expected for starts, but continued strength for permits.
The first round of the French presidential elections is this Sunday (April 23) and any anxiety surrounding the outcome is likely to push market risk sentiment higher closer to the end of this week.
Marine Le Pen is expected to be one of the top two to make it to round two, but markets will be content to a certain extent if the socially liberal and pro-business Emmanuel Macron, and not the far-left anti-austerity candidate Jean-Luc Melenchon, is to be her opponent in the run-off vote in a fortnight (May 7).
However, if Melenchon makes it into the next round with Le Pen, markets will be gripped by a new source of fear, bigger than Brexit!
Elsewhere, U.K Prime Minister Theresa calls a snap general election for June 8.
1. Stocks see Red
Markets in Sydney, Hong Kong and Europe have dropped after the Easter holidays, as investors caught up with global markets that have been weighed down by geopolitical concerns.
Japan's Topix has advanced +0.4% overnight on the back of a weaker yen (¥108.88) after U.S Treasury Secretary Mnuchin said the dollar's strength is "a good thing." In Indonesia, the benchmark jumped +0.7%, while South Korea's Kospi added +0.1%.
In Australia, a selloff in iron ore has pulled down commodity producers. The S&P/ASX 200 fell -0.9%, the most thus far in April. Raw-materials shares in the benchmark index have retreated -4.5% over the past two sessions, the biggest drop for that period in almost a year.
In Hong Kong, stocks played catch up after the four-day long weekend. The Hang Seng lost -1.1% and the Hang Seng China Enterprises Index slumped -1.4%, its lowest close in nearly three months. In China, the Shanghai Composite lost -0.8%, after plummeting -1.6% in the previous two-sessions.
In Europe, equity indices are trading sharply lower after the holiday weekend. Banking stocks are trading generally lower weighing the Eurostoxx, while energy, commodity and mining stocks are all weighing heavily in the FTSE 100.
U.S stocks are set to open in the red (-0.2%).
Indices: Stoxx50 -0.6% at 3,429, FTSE -1.1% at 7,249, DAX -0.3% at 12,070, CAC-40 -0.9% at 5,025, IBEX-35 -0.6% at 10,266, FTSE MIB -0.8% at 19,621, SMI -0.5% at 8,589, S&P 500 Futures -0.2%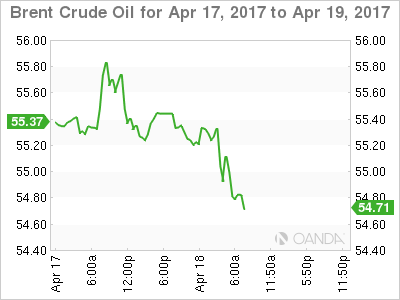 2. Oil under pressure from a hike in U.S output, gold holding firm
Crude prices fall in thin trade overnight as a U.S. government report indicated a rise in production.
Brent crude futures are down -4c at +$55.32. Yesterday they ended a quiet down -53c, after rising the three previous weeks. U.S. West Texas Intermediate (WTI) crude futures are also down -4c at +$52.61 a barrel. On Monday, they settled down -53c at +$52.65 a barrel.
U.S data yesterday showed that domestic shale production for May is likely to post the biggest monthly gain in more than two-years as producers step up the pace of drilling with oil prices holding above the psychological +$50 a barrel.
The EIA expects the month of May's output to rise by +123k bpd to +5.19m bpd. If so, it will be the biggest monthly increase since February 2015 and the highest monthly production level since November 2015.
Note: OPEC is due to meet on May 25 to weigh an extension of output cuts beyond June to alleviate a glut that has depressed prices for nearly three-years.
Gold prices held firm overnight (unchanged at +$1,284.56 per ounce) supported by geopolitical tensions over North Korea and market uncertainty re-French presidential election after falling from a five-month high on Monday (+$1,295.80) on a firmer dollar.
Elsewhere, Iron ore futures on the Dalian exchange dropped -4%, after sliding almost -3% yesterday.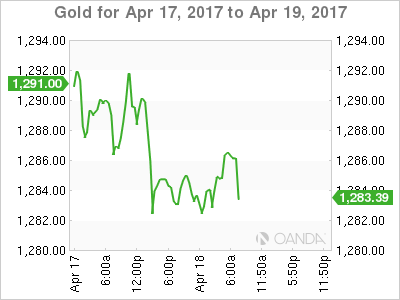 3. French/Bund spread remains wide on election jitters
The French Presidential forecast remains too close for comfort. This morning's Ifop poll puts Macron and Le Pen each on +23%, just +3% ahead of Fillon and the far-left Melenchon.
The spread between French and German 10-year bond yields – another indicator of market worries – ranged from +0.767 bps as markets opened, to +0.72 bps ahead of the U.S open. In November, the spread was as little as +0.22 bps.
Elsewhere, the yield on U.S 10's fell -1 bps to +2.24%, while the Aussie benchmark yield backed up +1 bps to +2.49%.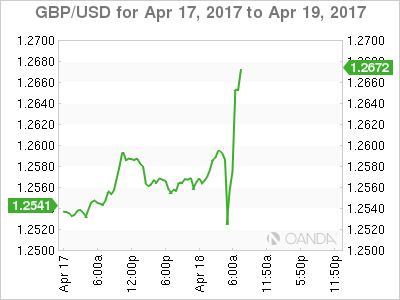 4. Pound collapse on May's impromptu announcement
The pound fell sharply against the USD (£1.2525) and EUR (€0.8490) on the news that U.K PM Theresa May would make an unexpected statement at 11:15 a.m. GMT. It has since taken back some of those earlier losses after PM Theresa May called a June 8 snap election (see below).
EUR/USD will be driven this week by French political development ahead of Sunday's first round of presidential elections. Currently, the EUR is up +0.06% outright (€$1.0650), but stress relating to the French election remains clear in other parts of the currency market.
Note: One-month Euro-dollar risk reversals, which measure the cost to investors of protecting against a sudden decline in the single unit, touched -4.3, the most extreme reading in six-years.
U.S Treasury Secretary Mnuchin has also talked up the USD after Trump's remarks last week that the greenback has gotten "too strong," noting that "strength of dollar over the long term is a positive." USD/JPY is trading at ¥108.90 ahead of the U.S open.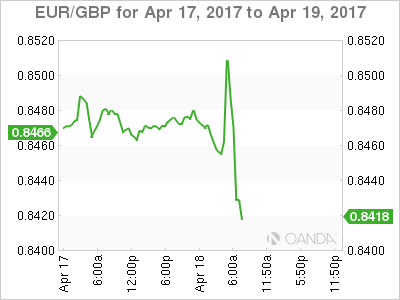 5. PM Theresa calls snap election
PM Theresa May has called a snap general election for June 8. Her obvious aim is to strengthen her position going into talks on leaving the European Union. Technically, she seeks a direct mandate to take the country through the "divorce" with the E.U.
Note: Two polls over the weekend put the Conservatives +21 points ahead of Labour, a lead that is likely to greatly increase.
In Brussels May's announcement is likely to be seen as merely adding to the unpredictability of relations with the U.K since last years Brexit referendum.