Sterling was back in fashion on Tuesday, with the GBPUSD lurching towards 1.2675 following Theresa May's unexpected announcement that there will be a snap general election on 8 June. This bombshell development has offered Sterling a solid boost, with markets now evaluating what impact this may have on the Brexit negotiations. The fact that May stated that she wants an election to ensure strong leadership that will deliver on Brexit may quell some related jitters in the short term.
While short-term bulls may reign as a result of this fresh development, longer-term bears could exploit the potential political uncertainty to drag Sterling lower. A very strong likelihood remains that Sterling sensitivity will intensify moving forward, with a vote in parliament on Wednesday to decide whether or not the election will take place acting as the first test.
From a technical standpoint, the GBPUSD is bullish on the daily charts. The upside momentum could propel prices towards the 1.2775 resistance level.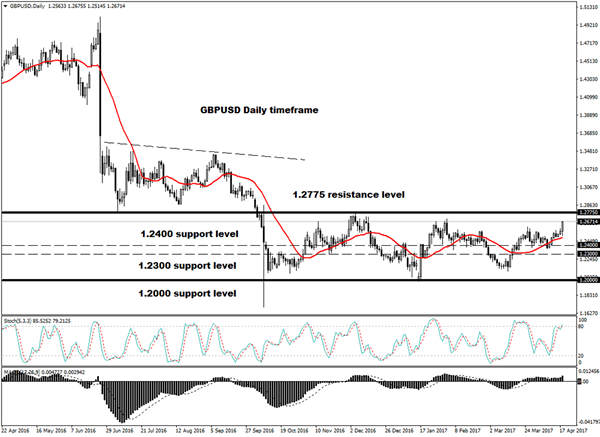 Trump rally put to the test
The ongoing anxiety surrounding geopolitical tensions across the globe has left investors jittery during Tuesday's trading session, with stock markets struggling to maintain gains. Asian shares were mostly lower amid cautious trading, with the sheer lack of appetite for risk exposing European equities to steep losses. Although Wall Street received a boost on Monday as participants redirected their attention to first quarter corporate earnings, the upside may be limited by a return of risk aversion. With confidence slowly deteriorating over Trump's ability to implement the phenomenal tax cuts and infrastructure spending he promised during his election campaign, the Trump rally could be put to test moving forward.
Dollar Trumped again
The Greenback was dealt a crippling blow last week after Donald Trump repeated his now iconic statement that the Dollar was "getting too strong". Dollar bears exploited the confusion created to attack the prices further, after Trump decided not to name China a currency manipulator. With Trump's comments on how he "liked" the low interest rates policy displaying a noticeable campaign U-turn and compounding the uncertainty, the Dollar could be in store for further punishment. The visible fact that the Greenback has found itself on the back foot every time Trump has shared his bearish thoughts on the Dollar does raise questions over whether the currency remains dictated by him in the short to medium term. From a technical standpoint, the Dollar Index has found itself pressured on the daily charts, with a break below 100.00 opening a path towards 99.50.
Commodity spotlight – Gold
The geopolitical tensions across the globe and political risks may continue to support Gold moving forward. Although prices edged lower on Monday, the metal remains bullish on the daily charts with buyers potentially exploiting the technical correction. From a technical standpoint, bulls remain in firm control above $1260 with $1300 acting as the next major level of interest.