Service sector activity rebounded in April after softening in March. The ISM non-manufacturing index rose 2.3 points to 57.5 in April, mostly recouping momentum lost in March. April's increase bested consensus.
Service Sector Bounces Back From Slip in March
After slipping 2.4 points in March, the ISM non-manufacturing index bounced back to 57.5 in April. Both production and new orders led the improvement in April, which reinforces our call for economic activity to rebound in Q2.
The new orders index added 4.3 points to post its current cycle high of 63.2. Demand was boosted by better global economic conditions, as new export orders jumped 3 points to 65.5.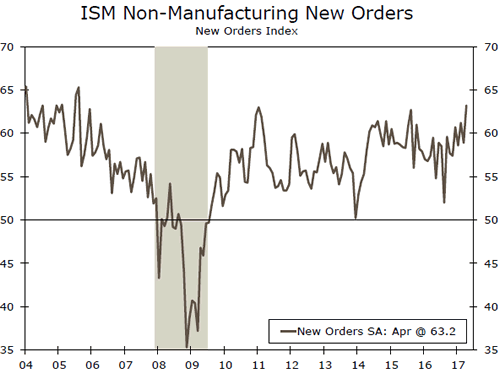 Employment Remained Muted in April
Employment was the only major component that did not improve in April, slipping another 0.2 points to 51.4 – a level that still signals expansion, but at a slower pace. Respondents noted a short supply of labor for the third straight month.
Price pressures returned in April which should reassure the Fed that March softness was likely transitory and inflation is moving in the right direction.